A New Sugar-beet Loader
30th September 1932
Page 46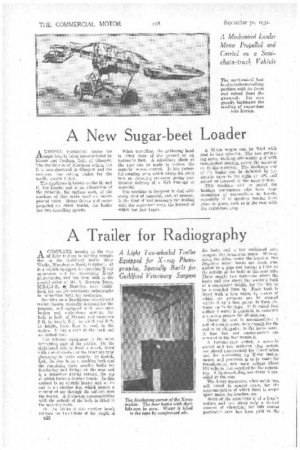 Page 46, 30th September 1932 —
A New Sugar-beet Loader
Close
AUSEFUL mechanical loader for sugar-beet is being manufactured by Mayor and Coulson, Ltd., of Glasgow. The =Chill° is of American origin, but it is manufactured in Glasgow and the company has selling rights for the world, except U.S.A.
The appliance is known as the K and C. Joy Loader and is an adaptation of the principle, for surface work, of the machine of that make used on underground tasks. Motor driven and motor propelled on chain tracks, the loader has two travelling speeds. When travelling, the gathering head is lifted clear of the ground by an hydraulic jack. A subsidiary chute at the rear can be made to deliver the material where desired. It has powerful rotating arms which sweep the roots into an elevating conveyor giving continuous delivery of a high tonnage of material.
The machine is designed to deal with every kind of material, and, at present, is the kind of tool necessary for dealing with the sugar-beet crop, the harvest of which has just begun. A 12-ton wagon can be filled with coal in four minutes. The two gathering arms, working alternately and with independent gearing, sweep the material on to the conveyor. The discharge end of the loader can be deflected by hydraulic rams to the right or left, and raised or lowered by the same Means.
This machine will be useful for haulage contractors who have large quantities of commodities to handle, especially if it involves moving from Place to place, such as is the case with the sugar-beet crop.