National Opposition to the Report
30th September 1932
Page 35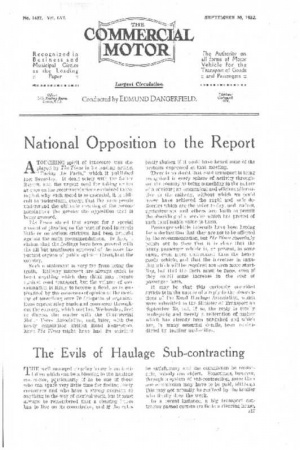 Page 35, 30th September 1932 —
National Opposition to the Report
Close
A• TOUCHING spirit of innocence was displayed by The Times in its leading article, "Facing the Facts," which it published last Saturday. It dealt solely with the Salter Report, and the urgent need for taking action at once on the recommendations contained there. in ; but why such speed is so essential, it is difficult to understand, except that the more people understand the ultimate meaning of the recom• mendations the greater the opposition that is being aroused. • The Times stated that except for a special amount of pleading on the part of road interests little or no serious criticism had been brought against the main recommendations. In fact, it claims that the findings have been greeted with the all but unanimous approval of the more important organs of public opinion throughout the country.
Such a statement is very far from being the truth. Railway interests • are .always quick to boost anything which they think may operate against road transport, but the volume of condemnation is likely to become a flood, as is emphasized by the consensus of opinion at the meeting of something over 70 delegates of organizations representing trade and commerce throughout the country, which met last Wednesday, first to discuss the matter with the Commercial Motor Users Association, and, later, with the newly constituted British Road Federation. Even The Times might have had its opinions badly shaken if it could have heard some of the protests expressed at that meeting.
There is no doubt that road transport is being recognized in every sphere of activity throughout the country as being something in the nature of a saviour ; an economical and efficient alternative to the railway, without which we could never have achieved the rapid and safe deliveries which are the order to-day, and traders, agriculturists and others are loath to permit the shackling of a service which has proved of such inestimable value to them.
Passenger-vehicle interests have been hoping for a declaration that they are not to be affected by the recommendation, but The Times cheerfully points out to them that it is clear that the heavy passenger vehicle is, at present, hi some cases, even more undertaxed than the heavy goods vehicle, and that the increases in taxation which will be required are even more startling, but that the facts must be faced even if they entail some increase in the cost of passenger fares.
It may be that this curiously one-sided article is in the nature of a reply to the observations of the Road Haulage Association, Which were submitted to the Minister of Transport on September 19, but, if so, the reply is totally inadequate and merely a reiteration of matter which has already been published and which has, in many essential detains, been contradicted by leading authorities.