Will you face Fax?
30th October 1982
Page 8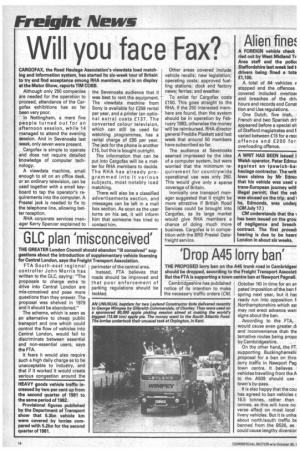 Page 8, 30th October 1982 —
Will you face Fax?
Close
CARGOFAX, the Road Haulage Association's viewdata load matching and information system, has started its six-week tour of Britain to try and find acceptance among RHA members, and is on display at the Motor Show, reports TIM COBB.
Although only 250 companies are needed for the operation to proceed, attendance of the Cargofax exhibitions has so far been very poor.
In Nottingham, a mere five people turned out for an afternoon session, while 14 managed to attend the evening session. And in Sevenoaks last week, only seven were present.
Cargofax is simple to operate and does not require detailed knowledge of computer technology.
A viewdata machine, small enough to sit on an office desk, or an ordinary television, can be used together with a small keyboard to tap the operator's requirements into the computer. A Prestol jack is needed to fix to the telephone line, allowing better reception.
RHA corporate services manager Kerry Spencer explained to the Sevenoaks audience that it was best to rent the equipment. The viewdata machine from Sony is available for £258 rental per year, and a printer (an optional extra) costs £137. The converted colour television, which can still be used for watching programmes, has a rental charge of £95 per year. The jack for the phone is another £15, but this is bought outright.
The information that can be put into Cargofax will be a matter for RHA members to decide. The RHA has already programmed into it various subjects, most notably load matching.
There will also be a classified advertisements section, and messages can be left in a mail box section. As soon as the user turns on his set, it will inform him that someone has tried to contact him. Other areas covered include vehicle recalls; new legislation; operating costs; approved fuelling stations; dock and factory news; ferries; and weather.
To enlist for Cargofax costs £150. This goes straight to the RHA. If the 250 interested members are found, then the system should be in operation by February 1983, otherwise the money will be reimbursed. RHA director general Freddie Plaskett said last week that around 50 members have subscribed so far.
The audience at Sevenoaks seemed impressed by the idea of a computer system, but were worried that the minimum requirement for countrywide operational use was only 250. This would give only a sparse coverage of Britain.
Ironically one transport manager suggested that it might be more attractive if British Road Services could be brought into Cargofax, as its large market would give RHA members a chance of doing much more business. Cargofax is in competition with the BRS Prestel Datafreight service.