GLC plan 'misconceived'
30th October 1982
Page 8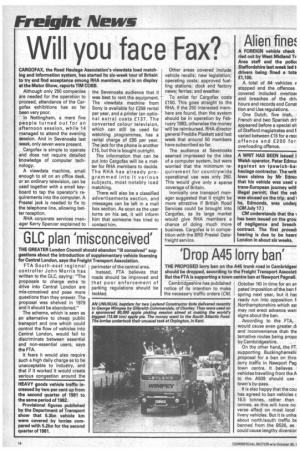 Page 8, 30th October 1982 —
GLC plan 'misconceived'
Close
THE GREATER London Council should abandon "ill conceived" suggestions about the introduction of supplementary vehicle licensing for Central London, says the Freight Transport Association.
FTA South-east regional controller John Morris has written to the GLC, saying: "The proposals to charge extra to drive into Central London are mis-conceived and pose more questions than they answer. The proposal was shelved in 1979 and it should be abandoned."
The scheme, which is seen as an alternative to cheap public transport and one which could control the flow of vehicles into Central London, would fail to discriminate between essential and non-essential users, says the FTA.
It fears it would also require such a high daily charge as to be unacceptable to industry, and that if it worked it would create serious congestion around the HEAVY goods vehicle traffic increased by two per cent up from the second quarter of 1981 to the same period of 1982.
Provisional figures published by the Department of Transport show that 5.3bn vehicle km were covered by lorries compared with 5.2bn for the second quarter of 1981. perimeter of the central area.
Instead, FTA believes that roads should be improved and that poor enforcement of parking regulations should be tackled.