Bulk liquid pump
30th October 1970
Page 59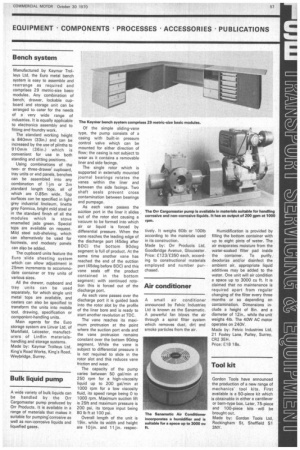 Page 59, 30th October 1970 —
Bulk liquid pump
Close
A wide variety of bulk liquids can be handled by the Orr Cargomaster pump produced by Orr Products. It is available in a range of materials that makes it suitable for pumping' corrosiveas well as non-corrosive liquids and liquefied gases. Of the simple sliding-vane type, the pump consists of a casing with built-in pressure control valve which can be mounted for either direction of flow; the casing is not subject to wear as it contains a removable liner and side facings.
The single rotor which is supported in externally mounted journal bearings rotates the vanes within the liner and between the side facings. Two shaft seals prevent cross contamination between bearings and pumpage.
As each vane passes the siiction port in the liner it slides out of the rotor slot causing a vacuum to be formed into which air or liquid is forced by differential pressure. When the vane reaches the leading edge of the discharge port (45deg after BDC) the bottom 90deg segment is full of product. At the same time another vane has reached the end of the suCtion port (45deg before BDC) and this vane seals off the product contained in the bottom segment; with continued rotation this is forced out of the discharge port.
As each vane passes over the discharge port it is guided back into the rotor slot by the profile of the liner bore and is ready to start another revolution at TDC.
The vane reaches its maximum protrusion at the point where the suction port ends and the vane protrusion remains constant over the bottom 90deg segment. While the vane is subject to differential pressure it is not required to slide in the rotor slot and this reduces vane friction and wear.
The capacity of the pump varies between 50 gal/min at 250 rpm for a high-viscosity liquid up to 200 gal/min at 1000 rpm for a low viscosity fluid, its speed range being 0 to 1000 rpm. Maximum suction lift is 25ft and maximum pressure is 200 psi, its torque input being 80 lb ft at 100 psi.
Overall length of the unit is 19in. while its width and height are 10.in. and 111in. respec
tively. It weighs 60Ib or 10016 according to the materials used in its construction.
Made by: Orr Products Ltd, Goodbridge Avenue, Gloucester, Price: £123/E350 each, according to constructional materials employed and number purchased.