Washer
30th October 1970
Page 57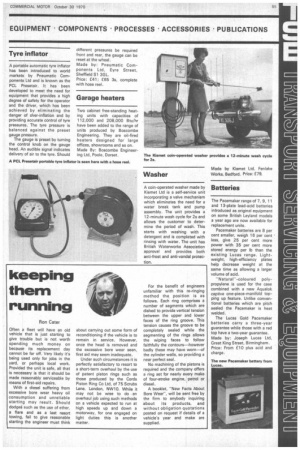 Page 57, 30th October 1970 —
Washer
Close
A coin-operated washer made by Kismet Ltd is a self-service unit incorporating a valve mechanism which eliminates the need for a water break tank and pump assembly. The unit provides a 12-minute wash cycle for 2s and allows the customer to determine the period of wash. This starts with washing with a detergent and is completed with rinsing with water. The unit has British Waterworks Association approval and provides both anti-frost and anti-vandal protection.
For the benefit of engineers unfamiliar with this re-ringing method the position is as follows. Each ring comprises a number of segments which are dished to provide vertical tension between the upper and lower faces of the ring groove. This tension causes the groove to be completely sealed while the segmenting of the rings allows the wiping faces to follow faithfully the contours however badly these may have worn—of the cylinder walls, so providing a near perfect seal.
No machining of the pistons is required and the company offers a ring set for nearly every make of four-stroke engine, petrol or A booklet, "New Facts About Bore Wear", will be sent free by the firm to anybody inquiring about its products, and without obligation quotations posted on request if details of a vehicle's year and make are supplied. Made by Kismet Ltd, Fenlake Works, Bedford. Price: £79.