keeping them running
30th October 1970
Page 57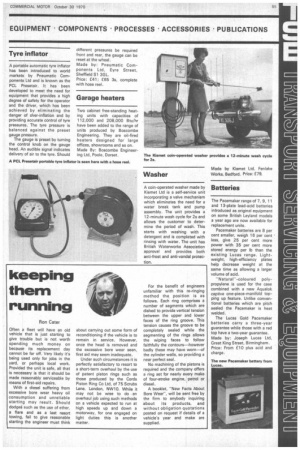 Page 57, 30th October 1970 —
keeping them running
Close
Ron Cater Often a fleet will have an old vehicle that is just starting to give trouble but is not worth spending much money on because its replacement day cannot be far off. Very likely it's being used only for jobs in the yard, or perhaps local work. Provided the unit is safe, all that is necessary is that it should be made reasonably serviceable by means of first-aid repairs.
With a diesel suffering from excessive bore wear heavy oil consumption and unreliable starting may result. Should dodges such as the use of ether, a flare and as a last resort towing, fail to give reasonable starting the engineer must think about carrying out some form of reconditioning if the vehicle is to remain in service. However, once the head is removed and the excessive bore wear seen, first aid may seem inadequate.
Under such circumstances it is perfectly satisfactory to resort to a short-term overhaul by the use of patent piston rings such as those produced by the Cords Piston Ring Co Ltd, of 75 Scrubs Lane, London, NW10. While it may not be wise to do an overhaul job using such methods on a vehicle expected to run at high speeds up and down a motorway, for one engaged on light duties this is another matter.