Batteries
30th October 1970
Page 57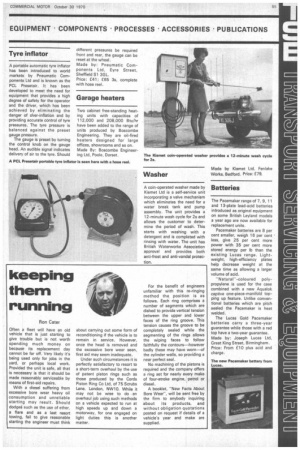 Page 57, 30th October 1970 —
Batteries
Close
The Pacemaker range of 7, 9, 11 and 13-plate lead-acid batteries introduced as original equipment on some British Leyland models a year ago are now available for replacement units.
Pacemaker batteries are 8 per cent smaller, weigh 16 per cent less, give 25 per cent more power with 35 per cent more stored energy per lb than the existing Lucas range. Lightweight, high-efficiency plates help decrease weight at the same time as allowing a larger volume of acid.
"Natural"-coloured polypropylene is used for the case combined with a new Aqualok captive one-piece-manifold topping up feature. Unlike conventional batteries which are pitch sealed the Pacemaker is heat welded.
The Lucas Gold Pacemaker batteries carry a three-year guarantee while those with a red top have a two-year guarantee. Made by: Joseph Lucas Ltd, Great King Street, Birmingham. Price: From E10 plus acid and charge.