Repair kit
30th October 1970
Page 56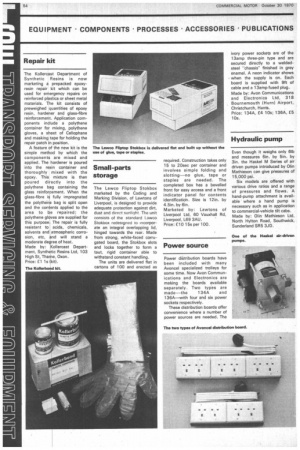 Page 56, 30th October 1970 —
Repair kit
Close
The Kollercast Department of Synthetic Resins is now marketing a prepacked epoxyresin repair kit which can be used for emergency repairs on reinforced plastics or sheet metal materials. The kit consists of preweighed quantities of epoxy resin, hardener and glass-fibre reinforcement. Application components include a polythene container for mixing, polythene gloves, a sheet of Cellophane and masking tape for holding the repair patch in position.
A feature of the new kit is the simple method by which the components are mixed and applied. The hardener is poured into the resin container and thoroughly mixed with the epoxy, This mixture is then poured directly into the polythene bag containing the glass reinforcement. When the glass-fibre is fully impregnated the polythene bag is split open and the contents applied to the area to be repaired: the polythene gloves are supplied for this purpose. The repair is fully resistant to acids, chemicals, solvents and atmospheric corrosion, etc, and will stand a moderate degree of heat.
Made by: Kollercast Department, Synthetic Resins Ltd, 103 High St, Tharne, Oxon.
Price: £1 1s kit).