Long orbital sander
30th October 1970
Page 55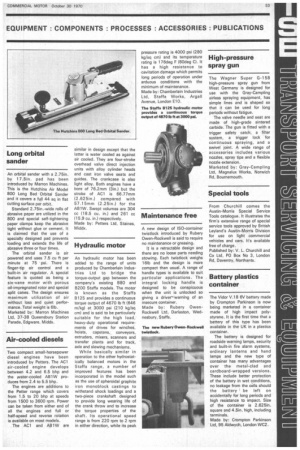 Page 55, 30th October 1970 —
Long orbital sander
Close
An orbital sander with a 2.75in. by 17.5in. pad has been introduced by Marron Machines. This is the Hutchins Air Model 800 Long Bed Orbital Sander and it covers a full 44 sq in flat cutting surface per orbit.
Standard 2.75in.-wide rolls of abrasive paper are utilized in the 800 and special self-tightening paper clamps keep the abrasive tight without glue or cement. It is claimed that the use of a specially designed pad prevents loading and extends the life of abrasive three or four times.
The orbital sander is air powered and uses 7.5 cu ft per minute at 75 psi. There is finger-tip air control and a built-in air regulator. A special feature is quoted as being a six-vane motor with porous oil-impregnated rotor and special split canes. The design ensures maximum utilization of air without loss and quiet performance. Total weight is 61b.
Marketed by: Marron Machines Ltd, 37-38 Queensbury Station Parade, Edgware, Middx.