Hydraulic motor
30th October 1970
Page 55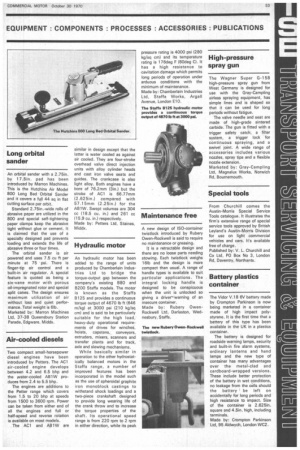 Page 55, 30th October 1970 —
Hydraulic motor
Close
An hydraulic motor has been added to the range of units produced by Chamberlain Industries Ltd to bridge the torque-output gap between the company's existing B80 and B200 Staffa models. The motor is known as the Staffa 13125 and provides a continuous torque output of 4670 lb ft (646 rn/kg) at 3000 psi (210 kg/sq cm) and is said to be particularly suitable for the high load, heavy-duty operational requirements of drives for winches, hoists, capstans, conveyors, extruders, mixers, scanners and transfer plants and for track, axle and slewing mechanisms.
While basically similar in operation to the other hydrostatically balanced motors in the Staffa range, a number of improved features has been incorporated in the model such as the use of spheroidal graphite iron monoblock castings to withstand shock loadings and a two-piece crankshaft designed to provide long wearing life of the crank throw and to increase the torque properties of the shaft. Its operational speed range is from 220 rpm to 2 rpm in either direction, while its peak pressure rating is 4000 psi (280 kg/sq cm) and its temperature rating is 176deg F (80deg C). It has a high resistance to cavitation damage which permits long periods of operation under arduous conditions with the minimum of maintenance.
Made by: Chamberlain Industries Ltd, Staffs Works, Argall Avenue, London F10.