Air-cooled diesels
30th October 1970
Page 55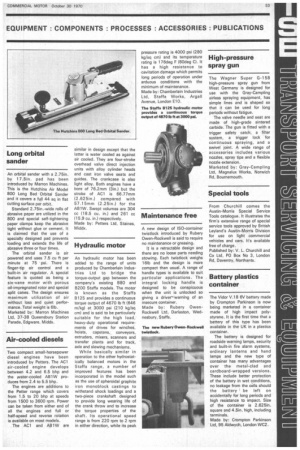 Page 55, 30th October 1970 —
Air-cooled diesels
Close
Two compact small-horsepower diesel engines have been introduced by Petters. The AC1 air-cooled engine develops between 4.2 and 6.5 bhp and the water-cooled AB1W produces from 2.4 to 5.5 bhp.
The engines are additions to the Fetter range which covers from 1.5 to 20 bhp at speeds from 1500 to 3600 rpm. Power can be taken from either end of all the engines and full or half-speed and reverse rotation is available on most models.
The AC1 and AB1W are similar in design except that the latter is water cooled as against air cooled. They are four-stroke overhead valve direct injection units with alloy cylinder heads and cast iron valve seats and guides. The crankcase is also light alloy. Both engines have a bore of 76.2mm (3in,) but the stroke of AC1 is 66.77mm (2.625in.) compared with 57.15mm (2.25in.) for the AB1W. Swept volumes are 304 cc (18.5 Cu. in.) and 261 cc (15.9 Cu. in.) respectively.
Made by: Petters Ltd, Staines, Middx.