vice
30th October 1970
Page 53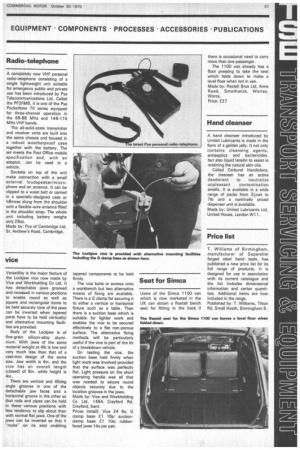 Page 53, 30th October 1970 —
vice
Close
Versatility is the major feature of the Lockjaw vice now made by Vice and Workholding Co Ltd. It has detachable jaws grooved and recessed in various positions to enable round as well as square and rectangular items to be held securely (one of the jaws can be inverted when tapered parts have to be held vertically) and alternative mounting facilities are provided.
Body of the Lockjaw is of fine-grain silicon-alloy aluminium. With jaws of the same material weight at 4Ib is low and very much less than that of a cast-iron design of the same size. Jaw width is 4in. and the vice has an overall length (closed) of 8in, while height is 4in.
There are vertical and 45deg angle grooves in one of the detachable jaw faces and a horizontal groove in the other so that rods and pipes can be held in these various positions with less tendency to slip about than with normal flat jaws. One of the jaws can be inverted so that it "rocks" on its seat enabling tapered components to be held firmly.
The vice bolts or screws onto a workbench but two alternative means of fixing are available. There is a G clamp for securing it to either a vertical or horizontal fixture such as a table. Then there is a suction base which is suitable for lighter work and enables the vice to be secured effectively to a flat non-porous surface. The alternative fixing methods will be particularly useful if the vice is part of the kit of a breakdown vehicle.
On testing the vice, the suction base held firmly when light work was involved provided that the surface was perfectly flat. Light pressure on the short operating handle was all that was needed to secure round objects securely due to the location grooves in the jaws. Made by: Vice and Workholding Co Ltd, 149A Crayford Rd, Crayford, Kent.
Prices (retail): Vice £4 6s; G clamp base £1 10s; suctionclamp base £1 10s; rubberfaced jaws 14s per pair. Users of the Simca 1100 van which is now marketed in the UK can obtain a RestaII bench seat for fitting in the back if