Radio-telephone
30th October 1970
Page 53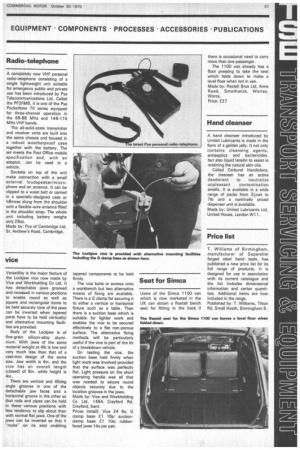 Page 53, 30th October 1970 —
Radio-telephone
Close
A completely new VHF personal radio-telephone consisting of a single lightweight unit suitable for emergency public and private use has been introduced by Pye Telecommunications Ltd. Called the PF2FMB, it is one of the Pye Pocketfone 70 series equipped for three-channel operation in the 68-88 MHz and 148-174 MHz VHF bands.
The all-solid-state transmitter and receiver units are built into the same chassis and housed in a robust weatherproof case together with the battery. The set meets the Post Office mobile specification and, with an adaptor, can be used in a vehicle.
Sockets on top of the unit make connection with a small external loudspeaker/microphone and an antenna. It can be clipped to a waist belt or carried in a specially-designed case or hArness slung from the shoulder with a flexible-wire antenna filled in the shoulder strap. The whole unit including battery weighs only 28oz.
Made by: Pye of Cambridge Ltd, St. Andrew's Road, Cambridge. there is occasional need to carry more than one passenger.
The 1100 van already has a floor pressing to take the seat which folds down to make a level floor when not in use.
Made by: RestaII Bros Ltd, Anne Road, Smethwick, Warley, Worcs.