Distribution management: an International conference
30th October 1970
Page 50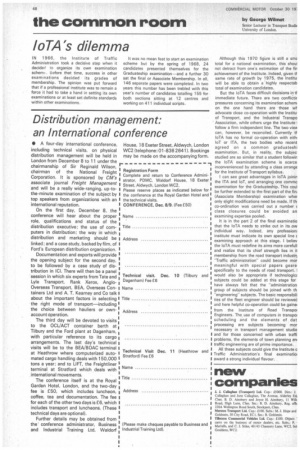 Page 50, 30th October 1970 —
Distribution management: an International conference
Close
• A four-day international conference, including technical visits, on physical distribution management will be held in London from December 8 to 11 under the chairmanship of Sir Reginald Wilson, chairman of the National Freight Corporation. It is sponsored by C/Vis associate journal Freight Management and will be a really wide-ranging, up-tothe-minute examination of the subject by top speakers from organizations with an international reputation.
On the first day, December 8, the conference will hear about the proper role, qualifications and status of the distribution executive; the use of computers in distribution; the way in which distribution and marketing should be linked ; and a case study, backed by film, of Ford's European distribution organization.
Documentation and exports will provide the opening subject for the second day, to be followed by a case study of distribution in (Cl. There will then be a panel session in which six experts from Tate and
Lyle Transport, Rank Xerox, AngloOverseas Transport, BEA, Overseas Coni Name tainers Ltd and A. T. Kearney and Co talk I about the important factors in selecting I Title
the right mode of transport—including
the choice between hauliers or ownI Address
account operation.
The third day will be devoted to visits, to the OCL/ACT container berth at Tilbury and the Ford plant at Dagenham, with particular reference to its cargo
arrangements. The last day's technical visits will be to the BEA/BOAC terminal I at Heathrow where computerized autoI mated cargo handling deals with 150,000 I tons a year; and to LIFT, the Freightliner I terminal at Stratford which deals with I
international movements.
The conference itself is at the Royal
Garden Hotel, London, and the two-day fee is £50, which includes luncheon, coffee, tea and documentation. The fee I for each of the other two days is £6, which I includes transport and luncheons. (These I technical days are optional).
Further details may be obtained from the conference administrator. Business and Industrial Training Ltd, Waldorf
House, 18 Exeter Street, Aldwych, London WC2 (telephone: 01-836 2641). Bookings may be made on the accompanying form.