Can your six-wheeler go 10 rounds with ours?
30th October 1970
Page 43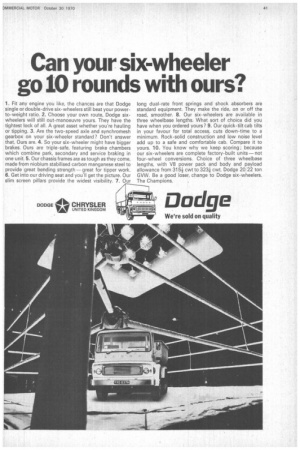 Page 43, 30th October 1970 —
Can your six-wheeler go 10 rounds with ours?
Close
1. Fit any engine you like, the chances are that Dodge single or double-drive six-wheelers still beat your powerto-weight ratio. 2. Choose your own route, Dodge sixwheelers will still out-manoeuvre yours. They have the tightest lock of all. A great asset whether you're hauling or tipping. 3. Are the two-speed axle and synchromesh gearbox on your six-wheeler standard ? Don't answer that. Ours are. 4. So your six-wheeler might have bigger brakes. Ours are triple-safe, featuring brake chambers which combine park, secondary and service braking in one unit. 5. Our chassis frames are as tough as they come, made from niobium stabilised carbon manganese steel to provide great bending strength — great for tipper work. 6. Get into our driving seat and you'll get the picture. Our slim screen pillars provide the widest visibility. 7. Our
long dual-rate front springs and shock absorbers are standard equipment. They make the ride, on or off the road, smoother. 8. Our six-wheelers are available in three wheelbase lengths. What sort of choice did you have when you ordered yours ? 9. Our quick-tilt cab tilts in your favour for total access, cuts down-time to a minimum. Rock-solid construction and low noise level add up to a safe and comfortable cab. Compare it to yours. 10. You know why we keep scoring ; because our six-wheelers are complete factory-built units—not four-wheel conversions. Choice of three wheelbase lengths, with V8 power pack and body and payload allowance from 3154 cwt to 323+ cwt. Dodge 2022 ton GVW. Be a good loser, change to Dodge six-wheelers. The Champions.