Flywheel aided power surge
30th October 1970
Page 42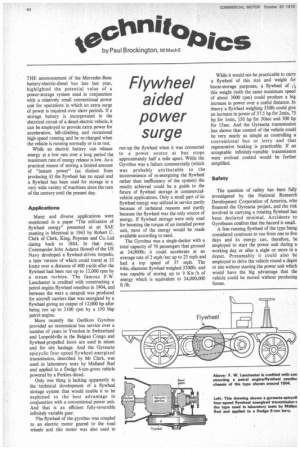 Page 42, 30th October 1970 —
Flywheel aided power surge
Close
Keywords :
Energy
,
Energy Storage
,
Physics
,
Mechanical Engineering
,
Electricity Storage
,
Alternative Propulsion
,
Gyrobus
,
Flywheel Energy Storage
,
Flywheel
,
Regenerative Brake
,
Electric Vehicle
,
Internal Combustion Engine
,
Technology / Internet
THE announcement of the Mercedes-Benz battery-electric-diesel bus late last year, highlighted the potential value of a power-storage system used in conjunction with a relatively small conventional power unit for operations in which an extra surge of power is required over short periods. If a storage battery is incorporated in the electrical circuit of a diesel-electric vehicle, it can be employed to provide extra power for acceleration, hill-climbing and occasional high-speed running and be re-charged when the vehicle is running normally or is at rest.
While an electric battery can release energy at a low rate over a long period the maximum rate of energy release is low. As a practical means of storing a limited amount of "instant power" (as distinct from producing it) the flywheel has no equal and a flywheel has been used for storage in a very wide variety of machines since the turn of the century until the present day.
Applications Many and diverse applications were mentioned in a paper "The utilization of flywheel energy" presented at an SAE meeting in Montreal in 1963 by Robert C. Clerk of Clerk, King, Poynten and Co. Ltd dating back to 1884. In that year, Commander John Adams Howell of the US Navy developed a flywheel-driven torpedo, a later version of which could travel at 33 knots over a distance of 400 yards after the flywheel had been run up to 12,000 rpm by a steam turbine. The famous F.W. Lanchester is credited with constructing a petrol engine/flywheel omnibus in 1904, and between the wars a catapult was produced for aircraft carriers that was energized by a flywheel giving an output of 12,000 hp after being run up to 2100 rpm by a 150 bhp petrol engine.
More recently the Oerlikon Gyrobus provided an economical bus service over a number of years in Yverdon in Switzerland and Leopoldville in the Belgian Congo and flywheel-propelled locos are used in mines and for site haulage. And the Gyreacta epicyclic four-speed flywheel-energized transmission, described by Mr Clerk, was used in laboratory tests by Midland Red and applied to a Dodge 6-ton-gross vehicle powered by a Perkins diesel.
Only one thing is lacking apparently in the technical development of a flywheel storage system that would enable it to be exploited to the best advantage in conjunction with a conventional power unit. And that is an efficient fully-reversible infinitely variable gear.
The flywheel of the gyrobus was coupled to an electric motor geared to the road wheels and this motor was also used to run-up the flywheel when it was connected to a power source at bus stops approximately half a mile apart. While the Gyrobus was a failure commercially (which was probably attributable to the inconvenience of re-energizing the flywheel rather than inefficiency of the system) the results achieved could be a guide to the future of flywheel storage in commercialvehicle applications. applications. Only a small part of its flywheel energy was utilized in service partly because of technical reasons and partly because the flywheel was the only source of energy. If flywheel storage were only used for boosting the torque of an installed power unit, most of the energy would be made available according to need.
The Gyrobus was a single-decker with a total capacity of 70 passengers that grossed at 24,000lb; it could accelerate at an average rate of 2 mph/sec up to 25 mph and had a top speed of 37 mph. The 64in.-diamcter flywheel weighed 33001b. and was capable of storing up to 9 Kw /h of energy which is equivalent to 24,000,000 ft /lb.
While it would not be practicable to carry a flywheel of this size and weight for boost-storage purposes, a flywheel of T this weight (with the same maximum speed of about 3000 rpm) could produce a big increase in power over a useful distance. In theory a flywheel weighing 3301b could give an increase in power of 37.5 hp for 2min, 75 hp for Imin, 150 hp for 30sec and 300 hp for 15sec. And the Gyreacta transmission has shown that control of the vehicle could be very nearly as simple as controlling a conventional bus or lorry and that regenerative braking is practicable. If an acceptable infinitely-variable transmission were evolved control would be further simplified.
Safety The question of safety has been fully investigated by the National Research Development Corporation of America. who financed the Gyreacta project, and the risk involved in carrying a rotating flywheel has been declared minimal. Accidents to Gyrobuses confirm that the hazard is small.
A free-running flywheel of the type being considered continues to run from one to five days and its energy can, therefore, be employed to start the power unit during a working day or after a night or more in a depot. Presumably it could also be employed to drive the vehicle round a depot or site without starting the power unit which would have the big advantage that the vehicle could be moved without producing fumes.