Horace England
30th October 1970
Page 30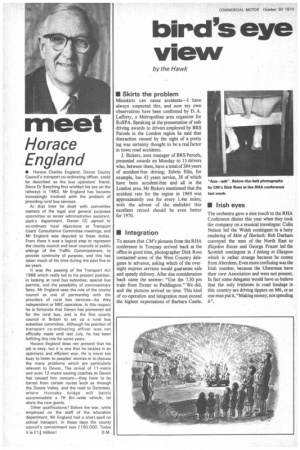 Page 30, 30th October 1970 —
Horace England
Close
• Horace Charles England, Devon County Council's transport co-ordinating officer, could be described as the bus operators' friend. Since Dr Beeching first wielded his axe on the railways in 1963, Mr England has become increasingly involved with the problem of providing rural bus services.
At that time he dealt with committee matters of the legal and general purposes committee as senior administrative assistant, clerk's department. Devon CC agreed to co-ordinate local objections at Transport Users' Consultative Committee meetings, and Mr England was deputed to these duties, From there it was a logical step to represent the county council and local councils at public sittings of the Traffic Commissioners, to provide continuity of purpose, and this has taken much of his time during the past five or six years.
It was the passing of the Transport Act 1968 which really led to his present position, in looking at rural bus subsidies, special bus permits, and the possibility of concessionary fares. Mr England sees the role of the county council as one of partnership with the providers of rural bus services—be they independent or NBC operators. In this respect he is fortunate that Devon has pioneered aid for the rural bus, and is the first county council in Britain to set up a rural bus subsidies committee. Although his position of transport co-ordinating officer was not officially made until last July, he has been fulfilling this role for some years.
Horace England does not pretend that his job is easy, but it is one that he tackles in an optimistic and efficient way. He is never too busy to listen to peoples' worries or to discuss the many problems which are particularly relevant to Devon. The arrival of 11-metre and even 12-metre touring coaches to Devon has caused him concern--they have to be barred from certain routes such as through the Doone Valley, and the road to Dartmeet, where Huccaby bridge will barely accommodate a 7ft 6in.-wide vehicle, let alone the new giants.
Other qualifications? Before the war, while employed on the staff of the education department, Mr England had a short spell on school transport. In those days the county council's commitment was f150,000. Today
it is £14 million! D. M.