bird's eye view
30th October 1970
Page 30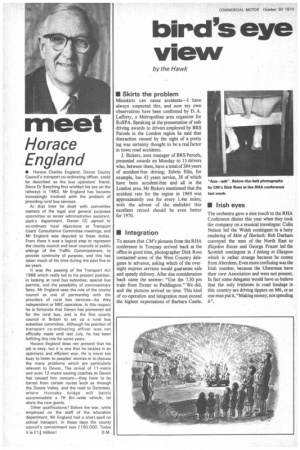 Page 30, 30th October 1970 —
bird's eye view
Close
by the Hawk • Skirts the problem
Miniskirts can cause accidents—I have always suspected this, and now my own observations have been confirmed by D. A. Lafferty, a Metropolitan area organizer for RoSPA. Speaking at the presentation of safe driving awards to drivers employed by BRS Parcels in the London region he said that distraction caused by the sight of a pretty leg was certainly thought to be a real factor in town road accidents.
J. Bickers, area manager of BRS Parcels, presented awards on Monday to 15 drivers who, between them, have a total of 384 years of accident-free driving; Edwin Ellis, for example, has 43 years service, 38 of which have been accident-free and all in the London area. Mr Bickers mentioned that the accident rate for the region in 1969 was approximately one for every 1.4m miles; with the advent of the midiskirt this excellent record should be even better for 1970.
• Integration
To ensure that CM's pictures from the RHA conference in Torquay arrived back at the office in good time, photographer Dick Ross contacted some of the West Country delegates in advance, asking which of the overnight express services would guarantee safe and speedy delivery. After due consideration back came the answer: "Use the 7.30 pm train from Exeter to Paddington." We did, and the pictures arrived on time. This kind of co-operation and integration must exceed the highest expectations of Barbara Castle.
• Irish eyes
The orchestra gave a nice touch to the RHA Conference dinner this year when they took the company on a musical travelogue: Colin Nelson led the Welsh contingent in a lusty rendering of Men of Harlech; Bob Durham conveyed the men of the North East to Blaydon Races and George Frazer led the Scottish contingent in I belong to Glasgow which is rather strange because he comes from Aberdeen. Even more confusing was the Irish number, because the Ulstermen have their own Association and were not present. In fact some delegates would have us believe that the only Irishmen in road haulage in this country are driving tippers on M6, or as one man put it, "Making money, not spending it".