Met LA to reconsider Thomas Allen's base
30th October 1970
Page 24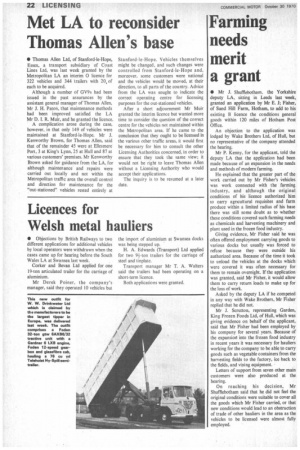 Page 24, 30th October 1970 —
Met LA to reconsider Thomas Allen's base
Close
• Thomas Allen Ltd, of Stanford-le-Hope, Essex, a transport subsidiary of Coast Lines Ltd, was last week granted by the Metropolitan LA an interim 0 licence for 322 vehicles and 344 trailers with 20, of each to be acquired.
Although a number of GV9s had been issued in the past assurances by the assistant general manager of Thomas Allen, Mr 1. H. Paton, that maintenance methods had been improved satisfied the LA Mr D. 1. R. Muir, and he granted the licence.
A complication arose during the case, however, in that only 149 of vehicles were maintained at Stanford-le-Hope. Mr J. Kenworthy Brown, for Thomas Allen, said that of the remainder 45 were at Ellesmere Port, 3 at King's Lynn, 25 at Hull and 87 at various customers' premises. Mr Kenworthy Brown asked for guidance from the LA, for although maintenance and repairs were carried out locally and not within the Metropolitan traffic area the overall control and direction for maintenance for the "out-stationed" vehicles rested entirely at Stanford-le-Hope. Vehicles themselves might be changed, and such changes were controlled from Stanford-le-Hope and, moreover, some customers were national and the vehicles would be moved, at their direction, to all parts of the country. Advice from the LA was sought to indicate the correct operating centre for licensing purposes for the out-stationed vehicles.
After a short adjournment Mr Muir granted the interim licence but wanted more time to consider the question of the correct centre for the vehicles not maintained within the Metropolitan area. If he came to the conclusion that they ought to be licensed in the various other traffic areas, it would first be necessary for him to consult the other Licensing Authorities concerned, in order to ensure that they took the same view; it would not be right to leave Thomas Allen without a Licensing Authority who would accept their applications.
The inquiry is to be resumed at a later date.