Farming needs merit a grant
30th October 1970
Page 24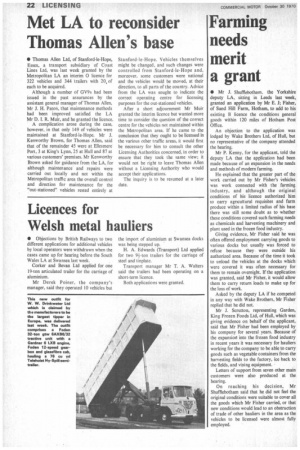 Page 24, 30th October 1970 —
Farming needs merit a grant
Close
• Mr J. Shufilebotham. the Yorkshire deputy LA, sitting in Leeds last week, granted an application by Mr E. J; Fisher, of Sand Hill Farm, Hotham, to add to his existing B licence the conditions general goods within 120 miles of Hotham Post Office.
An objection to the application was lodged by Wake Brothers Ltd, of Hull, but no representative of the company attended the hearing.
Mr P. Kenny, for the applicant, told the deputy LA that the application had been made because of an expansion in the needs and methods of modern farming.
He explained that the greater part of the work carried out by Mr Fisher's Vehicles was work connected with the farming industry, and although the original conditions of his licence authorized him to carry agricultural requisites and farm produce within a limited radius of his base there was still some doubt as to whether these conditions covered such fanning needs as chemicals and harvesting machinery and plant used in the frozen food industry.
Giving evidence, Mr Fisher said he was often offered employment carrying goods to various docks but usually was forced to refuse because they were outside his authorized area. Because of the time it took to unload the vehicles at the docks which were covered it was often necessary for them to remain overnight. If the application was granted, said Mr Fisher, it would allow them to carry return loads to make up for the loss of work.
Asked by the deputy LA if he competed in any way with Wake Brothers, Mr Fisher replied that he did not.
Mr J. Scrutton, representing Garden, King Frozen Foods Ltd, of Hull, which was giving evidence on behalf of the applicant, said that Mr Fisher had been employed by his company for several years. Because of the expansion into the frozen food industry in recent years it was necessary for hauliers working for the company to be able to carry goods such as vegetable containers from the harvesting fields to the factory, ice back to the fields, and vining equipment. • Letters of support from seven other main customers were also produced at the hearing.
On reaching his decision, Mr Shufflebotham said that he did not feel the original conditions were suitable to cover all the goods which Mr Fisher carried, or that new conditions would lead to an obstruction of trade of other hauliers in the area as the vehicles to be licensed were almost fully employed.