Transport symposium for policy makers
30th October 1970
Page 20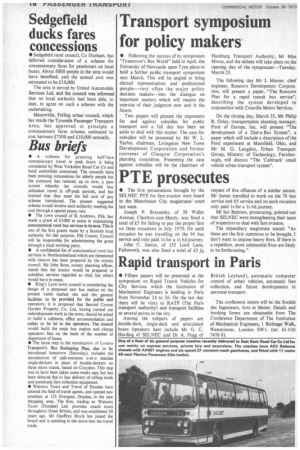 Page 20, 30th October 1970 —
Transport symposium for policy makers
Close
• Following the success of its symposium "Tomorrow's Bus World" held in April, the University of Newcastle upon Tyne plans to hold a further public transport symposium next March. This will be angled to bring elected representatives and professional people—very often the major policy decision makers—into the dialogue on important matters which will require the exercise of their judgment now and in the future.
Two papers will present the arguments for and against subsidies for public transport and a full day has been set aside to deal with this matter_ The case for subsidies will be presented by Mr W. L. Taylor, chairman, Livingston New Town Development Corporation and former convener of Glasgow Corporation's planning committee. Presenting the case against subsidies will be the chairman of Hamburg Transport Authority, Mr Max Mross, and the debate will take place on the opening day of the symposium—Tuesday, March 23.
The following day Mr J. Mercer, chief engineer, Runcorn Development Corporation, will present a paper, "The Runcorn Plan for a rapid transit bus service", describing the system developed in conjunction with Crosville Motor Services.
On the closing day, March 25, Mr Philip R. Oxley, transportation planning manager, Ford of Europe, Inc, will present "The development of a Dial-a-Bus System", a paper which will include a description of the Ford experiment at Mansfield, Ohio, and Mr M. G. Lan gdon, Urban Transport Group, Ministry of Technology, Farnborough, will discuss "The `Cabtrack' small vehicle urban transport system".