Scottish wage battle rages
30th October 1970
Page 18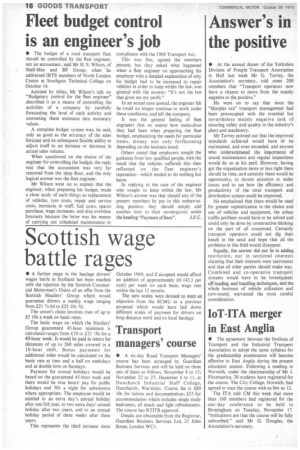 Page 18, 30th October 1970 —
Scottish wage battle rages
Close
• A further stage in the haulage drivers' wages battle in Scotland has been reached with the rejection by the Scottish Commercial Motormen's Union of an offer from the Scottish Hauliers' Group which would guarantee drivers a weekly wage ranging from £21 7s 6d to £25 lOs 7d.
The union's claim involves rises of up to £5 lOs a week on basic rates.
The basic wage on which the Hauliers' Group guaranteed 45-hour minimum is calculated-ranges from £18 to £21 lOs for a 40-hour week. It would be paid in return for distances of up to 260 miles covered in a 10-hour shift. Bonus payments for additional miles would be calculated on the basic rate at time and a half on weekdays and at double time on Sundays.
Payment for annual holidays would be based on the guaranteed 45-hour week and there would be nine hours' pay for public holidays and 30s a night for subsistence where appropriate. The employee would be entitled to an extra day's annual holiday after one full year. to two extra days' annual holiday after two years, and to an annual holiday period of three weeks after three years.
This represents the third increase since October 1969, and if accepted would afford an addition of approximately £6 (42.3 per cent) per week on each basic wage rate within the last 12 months.
The new scales were devised to meet an objection from the SCMU to a previous proposal which would have laid down different scales of payment for drivers on long-distance work and on local haulage.