Fleet budget control is an engineer's job
30th October 1970
Page 18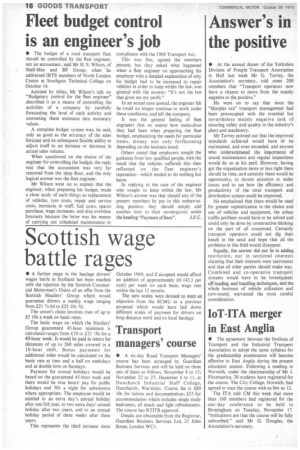 Page 18, 30th October 1970 —
Fleet budget control is an engineer's job
Close
•
• The budget of a road transport fleet should be controlled by the fleet engineer, not an accountant, said Mr H. S. Wilson, of Shell-Mex and BP Group, when he addressed IRTE members of North London Centre at Southgate Technical College on October 14.
Assisted by slides, Mr Wilson's talk on "Budgetary control for the fleet engineer" described it as a means of controlling the activities of a company by carefully forecasting the level of each activity and converting these estimates into monetary values.
A complete budget system was, he said, only as good as the accuracy of the sales forecast and its subsequent flexible ability to adjust itself to an increase or decrease in actual sales volume.
When questioned on the choice of the engineer for controlling the budget, the reply was that the accountant was very far removed from the shop floor, and the only logical answer was the fleet engineer.
Mr Wilson went on to explain that the engineer, when preparing his budget, made a close study of such things as replacement of vehicles. tyre costs, repair and service costs, increases in staff, fuel costs, spares purchase, wage increases, and also overtime forecasts because the latter was his means of carrying out scheduled maintenance in compliance with the 1968 Transport Act.
This was fine, agreed the members present, but they asked what happened when a fleet engineer on approaching his employer with a detailed explanation of why his budget had to be increased to repair vehicles in order to keep within the law, was greeted with the answer: "It's not the law that gives me my profit."
In an actual case quoted, the engineer felt he could no longer continue to work under these conditions, and left the company.
It was the general feeling of fleet engineers that no matter how meticulous they had been when preparing the fleet budget, emphasizing the needs for particular items, money was only forthcoming depending on the business trend.
Others stated that employers sought the guidance from less qualified people, with the result that the vehicles suffered; this then reflected on the fleet engineer's reputation—which tended to do nothing but harm.
In replying to the case of the engineer who sought to keep within the law, Mr Wilson's answer was that should any of the present members be put in this embarrassing position. they should simply add another item to their runningcosts under the heading "Payment of fines". J.F.C.