Answer's in the positive
30th October 1970
Page 18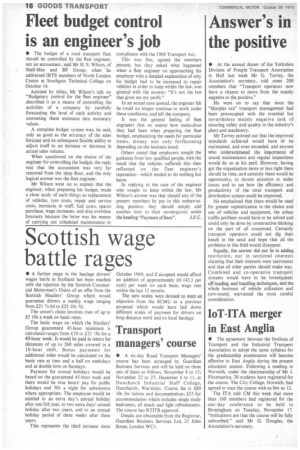 Page 18, 30th October 1970 —
Answer's in the positive
Close
• At thern annual dinner of the Yorkshire Division of Freight Transport Association in Hull last week Mr G. Turvey, the Association's secretary, told some 200 members that "Transport operators now have a chance to move from the mainly negative to the positive."
He went on to say that since the "Marples era" transport management had been preoccupied with the essential but nevertheless mainly negative task of ensuring safety and quality in the industry's plant and machinery.
Mr Turvey pointed out that the improved standards achieved would have tb be maintained, and even exceeded. and anyone who underestimated the importance of sound maintenance and regular inspections would do so at his peril. However, having got the organization more or less right there should be time, and certainly there would be opportunity, to devote attention to wider issues and to see how the efficiency and productivity of the total transport and distribution system could be improved.
He emphasized that there would be need for greater sophistication in the choice and use of vehicles and equipment, the urban traffic problem would have to be solved and could only be done by constructive thinking on the part of all concerned. Certainly transport operators could not dig their heads in the sand and hope that all the problems in this field would disappear.
Equally, the answer did not lie in adding restriction, nor in sectional interests claiming that their interests were sacrosanct and that all other parties should make way. Combined and co-operative transport systems would have to be investigated: off-loading and handling techniques, and the whole business of vehicle utilization and turn-round, warranted the most careful consideration.