Appointment scheme extended
30th October 1970
Page 17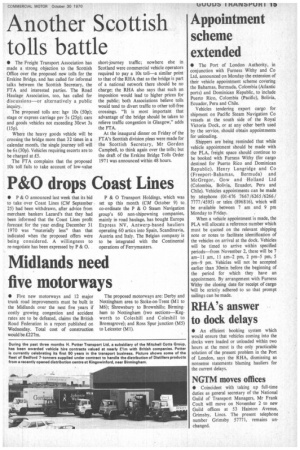 Page 17, 30th October 1970 —
Appointment scheme extended
Close
• The Port of London Authority, in conjunction with Furness Withy and Co Ltd, announced on Monday the extension of their vehicle appointment scheme covering the Bahamas, Burmuda, Colombia (Atlantic ports) and Dominican Republic, to include Puerto Rico, Colombia (Pacific), Bolivia, Ecuador, Peru and Chile.
Vehicles tendering export cargo for shipment on Pacific Steam Navigation Co vessels at the south side of the Royal Victoria Dock, or at any other berth used by the service, should obtain appointments for unloading.
Shippers are being reminded that while vehicle appointment should be made with the PLA, freight space should continue to be booked with Furness Withy (for cargo destined for Puerto Rico and Dominican Republic), Henry Langridge and Co (Freeport-Bahamas, Bermuda) and McGregor, Gow and Rolland Ltd (Colombia, Bolivia, Ecuador, Peru and Chile). Vehicles appointments can be made by telephone (01-476 7667 /6265 /6266 / 7777/4595) or telex (896816), which will be available between 7 am and 9 pm Monday to Friday.
When a vehicle appointment is made, the PLA will allocate a reference number which must be quoted on the relevant shipping note or notes to facilitate identification of the vehicles on arrival at the dock. Vehicles will be timed to arrive within specified periods—from November 2, these will be 7 am-11 am, 11 am-2 pm, 2 pm-5 pm, 5 pm-9 pm. Vehicles will not be accepted earlier than 30min before the beginning of the period for which they have an appointment. By arrangement with Furness Withy the closing date for receipt of cargo 'will be strictly adhered to so that prompt sailings can be made.