RTITB to merge regions
30th October 1970
Page 16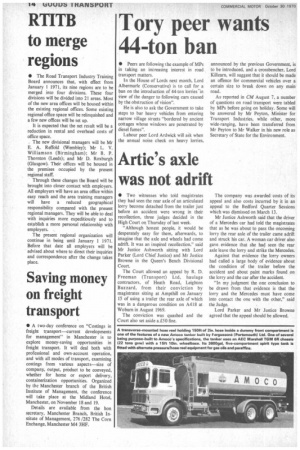 Page 16, 30th October 1970 —
RTITB to merge regions
Close
• The Road Transport Industry Training Board announces that, with effect from January 1 1971, its nine regions are to be merged into four divisions. These four divisions will be divided into 21 areas. Most of the new area offices will be housed within the existing regional offices. Some existing regional office space will be relinquished and a few new offices will be set up.
It is expected that the net result will be a reduction in rental and overhead costs of office space.
. The new divisional managers will be Mr E. A. Reffold (Wembley); Mr L. V. Williamson (Birmingham); Mr B. P. Thornton (Leeds); and Mr D. Roxburgh (Glasgow). Their offices will be housed in the premises occupied by the present regional staff.
Through these changes the Board will be brought into closer contact with employers. All employers will have an area office within easy reach and the area training managers will have a reduced geographical responsibility compared with the present regional managers. They will be able to deal with inquiries more expeditiously and to establish a more personal relationship with employers.
The present regional organization will continue in being until January 1 1971. Before that date all employers will be advised about where to direct their inquiries and correspondence after the change takes place.