Artic's axle was not adrift
30th October 1970
Page 16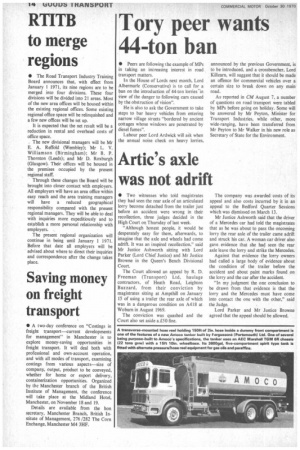 Page 16, 30th October 1970 —
Artic's axle was not adrift
Close
• Two witnesses who told magistrates they had seen the rear axle of an articulated lorry become detached from the trailer just before an accident were wrong in their recollection, three judges decided in the High Court on Thursday of last week.
"Although honest people, it would be desperately easy for them, afterwards, to imagine that the axle and wheels had come adrift. It was an inspired recollection." said Mr Justice Ashworth sitting with Lord Parker (Lord Chief Justice) and Mr Justice Browne in the Queen's Bench Divisional Court.
The Court allowed an appeal by R. D. Freeman (Transport) Ltd, haulage contractors, of Heath Road, Leighton Buzzard, from their conviction by magistrates sitting at Ampthill on January 15 of using a trailer the rear axle of which was in a dangerous condition on A418 at Woburn in August 1969.
The conviction was quashed and the Court also set aside a.£50 fine. The company was awarded costs of its appeal and also costs incurred by it in an appeal to the Bedford Quarter Sessions which was dismissed on March 13.
Mr Justice Ashworth said that the driver of a Mercedes car had told the magistrates that as he was about to pass the oncoming lorry the rear axle of the trailer came adrift and struck his car. A woman car driver also gave evidence that she had seen the rear axle leave the lorry and strike the Mercedes.
Against that evidence the lorry owners had called a large body of evidence about the condition of the trailer before the accident and about paint marks found on the lorry and the car after the accident.
"In my judgment the one conclusion to be drawn from that evidence is that the lorry and the Mercedes must have come into contact the one with the other," said the Judge.
Lord Parker and Mr Justice Browne agreed that the appeal should be allowed.