Coach fleet condition appalling'
30th October 1970
Page 15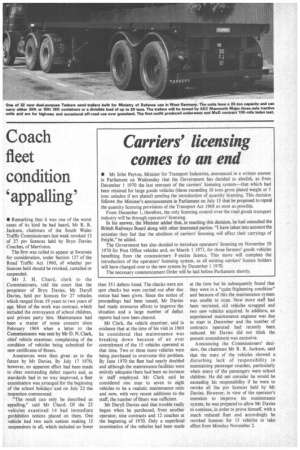 Page 15, 30th October 1970 —
Coach fleet condition appalling'
Close
• Remarking that it was one of the worst cases of its kind he had heard, Mr R. R. Jackson. chairman of the South Wales Traffic Commissioners last week revoked 13 of 27 psv licences held by Bryn Davies Coaches, of Morriston.
The firm was called to appear at Swansea for consideration. under Section 127 of the Road Traffic Act 1960, of whether psv licences held should be revoked, curtailed or suspended.
Mr J. H. Chard. clerk to the Commissioners, told the court that the proprietor of Bryn Davies, Mr Daryl! Davies. held psv licences for 27 vehicles which ranged from 19 years to two years of age. Most of the work was contract, which included the conveyance of school children. and private party hire. Maintenance had been a matter of some concern since February 1969 when a letter to the Commissioners was sent by Mr D. N. Clark, chief vehicle examiner, complaining of the condition of vehicles being submitted for new certificates of fitness.
Assurances were then given as to the future by Mr Davies. By July 17 1970. however, no apparent effort had been made to clear outstanding defect reports and, as standards had in no way improved, a fleet examination was, arranged for the beginning of the school holidays and on July 22 the inspection commenced.
"The result can only be described as appalling.said Mr Chard. Of the 22 vehicles examined 14 had immediate prohibition notices placed on them. One vehicle had two such notices making 15 suspensions in all, which included no fewer
han 351 defects listed. The checks were not spot checks but were carried out after due notice had been given. Since the notice of proceedings had been issued, Mr Davies had made strenuous efforts to improve the situation and a large number of defect reports had now been cleared.
Mr Clark, the vehicle examiner, said in evidence that at the time of his visit in 1969 he considered that maintenance was breaking down because of an over commitment of the 15 vehicles operated at that time. Two or three more vehicles were being purchased to overcome this problem. By June 1970 the fleet had nearly doubled and although the maintenance facilities were entirely adequate there had been no increase in staff employed. Mr Clark said he considered one man to seven to eight vehicles to be a realistic maintenance ratio and now, with very recent additions to the staff, the number of fitters was sufficient.
Mr Daryll Davies said that trouble really began when he purchased, from another operator, nine contracts and 12 coaches at the beginning of 1970. Only a superficial examination of the vehicles had been made at the time but he subsequently found that they were in a "quite frightening condition" and because of this the maintenance system was unable to cope. Now more staff had been recruited, old vehicles scrapped and two new vehicles acquired. In addition, an experienced maintenance engineer was due to start in December and the number of contracts operated had recently been reduced. Mr Davies did not think the present commitment was excessive.
Announcing the Commissioners' decision, the chairman Mr R. R. Jackson, said that the state of the vehicles showed a disturbing lack of responsibility in maintaining passenger coaches, particularly when many of the passengers were school children. He did not consider he would be exceeding his responsibility if he were to revoke all the psv licences held by Mr Davies. However, in view of the operator's intention to improve his maintenance system, he was prepared to allow Mr Davies to continue, in order to prove himself, with a much reduced fleet and accordingly he revoked licences for 13 vehicles to take effect from Monday November 2.