Carriers' licensing comes to an end
30th October 1970
Page 15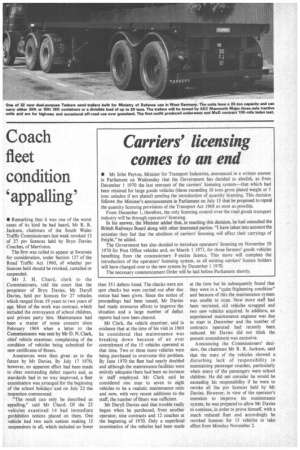 Page 15, 30th October 1970 —
Carriers' licensing comes to an end
Close
• Mr John Peyton, Minister for Transport Industries, announced in a written answer in Parliament on Wednesday that the Government has decided to abolish, as from December 1 1970 the last remnant of the carriers' licensing system—that which had been retained for large goods vehicles (those exceeding 16 tons gross plated weight or 5 tons unladen if not plated) pending the introduction of quantity licensing. This decision follows the Minister's announcement in Parliament on July 15 that he proposed to repeal the quantity licensing provisions of the Transport Act 1968 as soon as possible.
From December 1, therefore, the only licensing control over the road goods transport industry will be through operators' licensing. In his answer, the Minister added that, in reaching this decision, he had consulted the British Railways Board along with other interested parties. "I have taken into account the anxieties they feel that the abolition of carriers' licensing will affect their carryings of freight," he added.
The Government has also decided to introduce operators' licensing on November 30 1970 for Post Office vehicles and, on March 1 1971, for those farmers' goods vehicles benefiting from the concessionary F-excise licence. This move will complete the introduction of the operators' licensing system, as all existing carriers' licence holders will have changed over to the new system by December 1 1970.
The necessary commencement Order will be laid before Parliament shortly.