Operators mount joint campaign for training split
30th October 1970
Page 14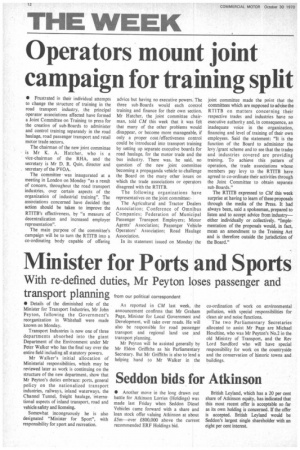 Page 14, 30th October 1970 —
Operators mount joint campaign for training split
Close
• Frustrated in their individual attempts to change the structure of training in the road transport industry, the principal operator associations affected have formed a Joint Committee on Training to press for the creation of sub-Boards to administer and control training separately in the road haulage, road passenger transport and retail motor trade sectors.
The chairman of the new joint committee is Mr K. A. Hatcher, who is a vice-chairman of the RHA, and the secretary is Mr D. R. Quin, director and . secretary of the PVOA.
The committee• was inaugurated at a meeting in London on Monday "as a result of concern, throughout the road transport industries, over certain aspects of the organization of industrial training". The associations concerned have decided that action should be taken to improve the RTITB's effectiveness, by "a measure of decentralization and increased employer representation".
The main purpose of the committee's campaign will be to turn the RTITB into a co-ordinating body capable of offering
advice but having no executive powers. The three sub-Boards would each control training and finance for their own section. Mr Hatcher, the joint committee chairman, told CM this week that it was felt that many of the other problems would disappear, or become more manageable, if only a proper cost/effectiveness control could be introduced into transport training by setting up separate executive boards for road haulage, for the motor trade and the bus industry. There was, he said, no question of the new joint committee becoming a propaganda vehicle to challenge the Board on the many other issues on which the trade associations or operators disagreed with the RTITB.
The following organizations have representatives on the joint committee: The Agricultural and Tractor Dealers Association; Conference of Omnibus Companies; Federation of Municipal Passenger Transport Employers; Motor Agents' Association; Passenger Vehicle. Operators' Association; Road Haulage Association.
In its statement issued on Monday the joint committee made the point that the committees which are supposed to advise the RTITB on matters concerning their respective trades and industries have no executive authority and, in consequence, an inadequate voice in the organization, financing and level of training of their own employees. Said the statement: "It is the function of the Board to administer the levy /grant scheme and to see that the trades and industries covered are providing training. To achieve this pattern of operation, the trade associations whose members pay levy to the RTITB have agreed to co-ordinate their activities through the Joint Committee to obtain separate sub-Boards."
The RTITB expressed to CM this week surprise at having to learn of these proposals through the media of the Press. It had always been, said a spokesman, prepared to listen and to accept advice from industry— either individually or collectively. "Implementation of the proposals would, in fact, mean an amendment to the Training Act and is therefore outside the jurisdiction of the Board."