Minister for Ports and Sports
30th October 1970
Page 14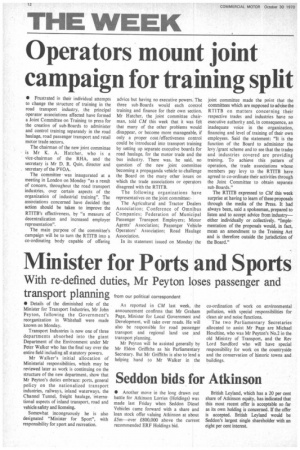 Page 14, 30th October 1970 —
Minister for Ports and Sports
Close
With re-defined duties, Mr Peyton loses passenger and transport planning
• Details of the diminished role of the Minister for Transport Industries, Mr John Peyton, following the Government's reorganization in Whitehall were made known on Monday.
Transport Industries is now one of three departments absorbed into the giant Department of the Environment under Mr Peter Walker who has the final say over the entire field including all statutory powers.
Mr Walker's initial allocation of Ministerial responsibilities, which may be reviewed later as work is continuing on the structure of the new department, show that Mr Peyton's duties embrace: ports, general policy on the nationalized transport industries, railways, inland waterways, the Channel Tunnel, freight haulage, 'international aspects of inland transport, road and vehicle safety and licensing.
Somewhat incongruously he is also designated "Minister for Sport", with responsibility for sport and recreation.
from our political correspondent As reported in CM last week, the announcement confirms that Mr Graham Page, Minister for Local Government and Development, will take over roads. He will also be responsible for road passenger transport and regional land use and transport planning.
Mr Peyton will be assisted generally by Mr Eldon Griffiths as his Parliamentary Secretary. But Mr Griffiths is also to lend a helping hand to Mr Walker in the co-ordination of work on environmental pollution, with special responsibilities for clean air and noise functions.
The two Parliamentary Secretaries allocated to assist Mr Page are Michael Heseltine, who was Mr Peyton's No.2 in the old Ministry of Transport, and the Rev Lord Sandford who will have special responsibility for work on the countryside and the conservation of historic towns and buildings.