Out for better value
30th October 1970
Page 13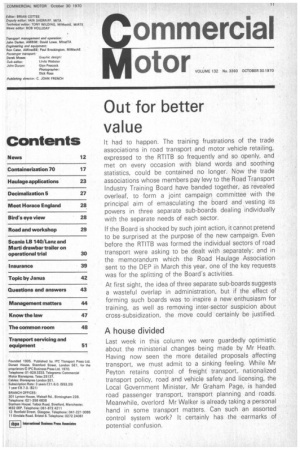 Page 13, 30th October 1970 —
Out for better value
Close
It had to happen. The training frustrations of the trade associations in road transport and motor vehicle retailing, expressed to the RTITB so frequently and so openly, and met on every occasion with bland words and soothing statistics, could be contained no longer. Now the trade associations whose members pay levy to the Road Transport Industry Training Board have banded together, as revealed overleaf, to form a joint campaign. committee with the principal aim of emasculating the board and . vesting its powers in three separate sub-boards dealing individually with the separate needs of each sector.
If the Board is shocked by such joint action, it cannot pretend to be surprised at the purpose of the new campaign. Even before the RTITB was formed the individual sectors of road transport were asking to be dealt with separately; and in the memorandum which the Road Haulage Association sent to the DEP in March this year, one of the key requests was for the splitting of the Board's activities.
At first sight, the idea of three separate sub-boards suggests a wasteful overlap in administration, but if the effect of forming such boards was to inspire a new enthusiasm for training, as well as removing inter-sector suspicion about cross-subsidization, the move could certainly be justified.
A house divided
Last week in this column we were guardedly optimistic about the ministerial changes being made by Mr Heath. Having now seen the more detailed proposals affecting transport, we must admit to a sinking feeling. While Mr Peyton retains control of freight transport, nationalized transport policy, road and vehicle safety and licensing, the Local Government Minister, Mr Graham Page, is handed road passenger transport, transport planning and roads. Meanwhile, overlord Mr Walker is already taking a personal hand in some transport matters. Can such an assorted control system work? It certainly has the earmarks of potential confusion.