A Versatile Truck for the Farm?
30th October 1964
Page 39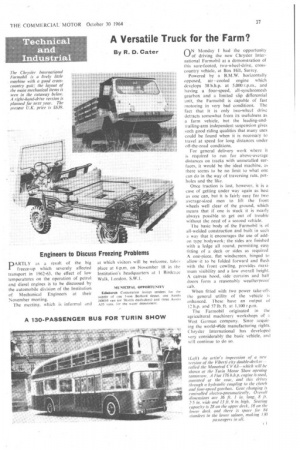 Page 39, 30th October 1964 —
A Versatile Truck for the Farm?
Close
By R. D. Cater QN Monday I had the opportunity of driving the new Chrysler International Farmobil at a demonstration of this sure-footed, two-wheel-drive, crosscountry vehicle, at Box Hill, Surrey.
Powered by a B.M.W. horizontally opposed, air cooled engine which develops 38 b.h.p. at 5,000 r.p.m., and having a four-speed, all-synchromesh gearbox and a limited slip differential unit, the Farmobil is capable of fast motoring in very bad conditions. The fact that it is only two-wheel drive detracts somewhat from its usefulness as a farm vehicle, but the leading-andtrailing-arm independent suspension gives such good riding qualities that many uses could be found when it is necessary to travel at speed for long distances under off-the-road conditions.
For general delivery work where it is required to run for above-average distances on tracks with unmetalled surfaces, it would he the ideal machine, as there seems to be no limit to what one can do in the way of traversing ruts, potholes and the like.
Once traction is lost, however, it is a case of getting under way again as best as one can, but it is fairly easy for two average-sized men to lift the front wheels well clear of the ground, which means that if one is stuck it is nearly always possible to get out of trouble without the need of a second vehicle.
Ihe basic body of the Farmobil is of all-welded construction and built in such a way that it encourages the use of addon type bodywork; the sides are finished with a ledge all round, permitting easy fitting of a deck or sides as required. A one-piece, flat windscreen, hinged to allow-it to he folded forward and flush with the front cowling, provides maximum visibility and a low overall height. A canvas hood, side' curtains and half doors form a reasonably weatherproof cab.
When fitted with two power take-offs the general utility of the vehicle is enhanced. These have an output of 12 h,p. and 57 lb. ft. at 1,100 r.p.m.
The Farmobil originated in the agricultural machinery workshops of a West German company. Since acquiring the world-Ade manufacturing rights. Chrysler International has developed very considerably the basic vehicle, and will continue to do so.