Fewer Goods Go by Rail
30th October 1964
Page 24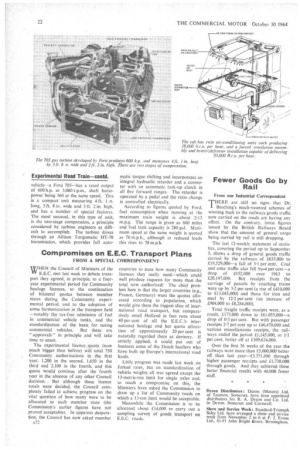 Page 24, 30th October 1964 —
Fewer Goods Go by Rail
Close
From our Industrial Correspondent
THERE are still no signs that Dr.
Beeching's much-vaunted schemes of winning back to the railways goods traffic now carried on the roads are having any effect, On the contrary, latest figures issued by the British Railways Board show that the amount of general cargo being carried by rail is still dropping.
The last I2-weekly statement of statistics, covering the period up to September 5, shows a drop of general goods traffic carried by the railways of £635,000 to £19,529,000—a fall of 3.1 per cent. Coal and coke traffic also fell by..4 per cent—a drop of £852,000 over 1963 to £20,197,000. But receipts from the carriage of parcels by coaching trains were up by 3.2 per cent (a rise of £410,000 to £13,045,000) and those for iron and steel by 12-2 per cent (an increase of £904,000 to £8,284,000).
Total freight traffic receipts were, as a result, £173,000 down to £61.055,000—a drop of 0.3 per cent. But with passenger receipts 2.7 per cent up at £46,470,000 and various miscellaneous receipts, the railways ended the period £1,145,000, or 1.1 per cent, better off at £109,624,000.
Over the first 36 weeks of the year the railways were more than £5,000,000 better off than last year—£3,371,000 through higher passenger receipts and £1,738,000 through goods. And they achieved these better financial results with 40,000 fewer staff.