Compromises on E.E.C. Transport Plans
30th October 1964
Page 24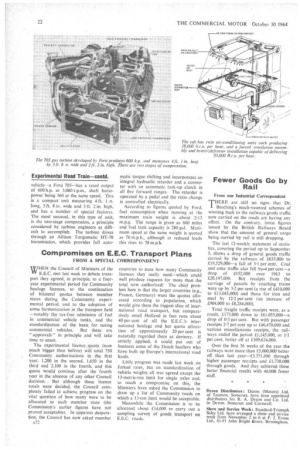 Page 24, 30th October 1964 —
Compromises on E.E.C. Transport Plans
Close
FROM A SPECIAL CORRESPONDENT
III HEN the Council of Ministers of the VV E.E.C. met last week to debate transport they agreed, in principle, to a fouryear experimental period for Community haulage licences, to the continuation of bilateral quotas between member states during the Community experimental period, and to the adoption of some harmonization in the transport field —notably the tax-free admission of fuel in commercial vehicle tanks, and the standardization of the basis for taxing commercial vehicles. But these are " approvals " in principle and will take time to enact.
The experimental licence ..quota (now much bigger than before) will total 750 Community authorizations in the first year, 1,200 in the second, 1,650 in the third and 2,100 in the fourth, and this quota would continue after the fourth year in the absence of any other Council decision. But although these licence totals were decided, the Council completely failed to achieve progress on the vital question of how many were to be allocated to each member state (the Commission's 'earlier figures have not proved acceptable). In apparent desperation, the Council has now asked member A22
countries to state how many Community licences they really need—which could well produce requests for more than the total now authorized! The chief problem here is that the larger countries (e.g., France, Germany) want the quotas allocated according to population, which would give them the biggest slice of international road transport, but comparatively small Holland in fact runs about 40 per cent of all the E.E.C.'s international haulage and her quota allocation of approximately 20 per cent is naturally regarded there as derisory. If strictly applied, it could put out of business some of the Dutch hauliers who have built up Europe's international road hauls.
Little progress was made last week on forked rates, but on standardization of vehicle weights all was agreed except the 13-metric-ton limit for single axles and, to reach a compromise on this, the Ministers have asked the Commission to draw up a list of Community roads on which a 13-ton limit would be acceptable.
Meanwhile the Commission is to be allocated about £14,000 to carry out a sampling survey of goods transport on E.E.C. roads.