Is Vehicle Transference Legal ?
30th October 1936
Page 38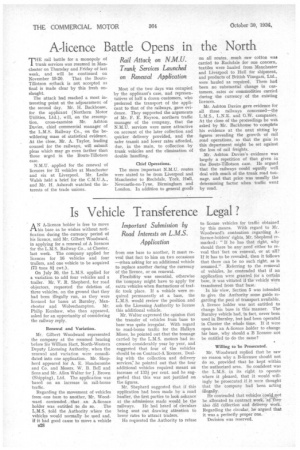 Page 38, 30th October 1936 —
Is Vehicle Transference Legal ?
Close
AN A-licence holder is free to move his base as he wishes without notification during the currency period of his licence, said Mr. Gilbert Woodward, in applying for a renewal of A licences for the L.M.S. Railway Co., at Chester, last week. The company applied for licences for 16 vehicles and four trailers, and one vehicle to be acquired (73 tons 8f cwt.).
On July 30, the L.M.S. applied for a variation to add four vehicles and a trailer. Mr. V. R. Shepherd, for road objectors, requested the deletion of. three vehicles, on the ground that they had •been illegally run, as they were licensed for bases at Burnley, Manchester and Wolverhampton. Mr. Philip Kershaw, who then appeared. asked for an opportunity of considering the railway reply.
Renewal and Variation.
Mr. Gilbert Woodward represented the company at the resumed hearing before Sir William Hart, North-Western Deputy Licensing Authority, when the renewal and variation were consolidated into one application. Mr. Shepherd appeared for A. E. Handscombe and Co. and Messrs. W. B. Bell and Sons and Mr. Allen Walter for J. Brown (Shipping), Ltd. The application was based on an increase in rail-borne traffic.
Regarding the movement of vehicles from one base to another, Mr. Woodward contended that an A-licence
holder was entitled to do so. The L.M.S. told the Authority where the vehicles would normally be used and, if it had good cause to move a vehicle
B28 from one base to another, it must reveal that fact to him on two occasions —when asking for an additional vehicle to replace another during the currency of the licence, or on renewal.
Flexibility was essential, otherwise the 'company might have to apply for extra vehicles when fluctuations of traffic took place. If a vehicle were required permanently at a base, the L.M.S. would review the position and ask the Licensing Authority to license this additional vehicle.
Mr. Walter expressed the opinion that the transfer of vehicles from base to base was quite irregular. With regard to road-borne traffic for the Halkyn Mines, he pointed out that the tonnage carried by the L.M.S. motors had increased considerably year by year, and suggested that four of the vehicles should be on Contract-A licences. Dealing with the collection and delivery services' .he pointed out that the four additional vehicles required meant an increase of 133iper cent, and he suggested that this was not justified on the figures.
Mr. Shepherd suggested that if this application had been made by a road haulier, the first parties to look askance at the admissions made would be the
railways. He had heard of circulars being sent out drawing attention to lower rates to attract traders.
He requested the Authority to refuse to license vehicles for traffie obtained by this means. With regard to Mr. Woodward's contention regarding A.licence-holders' rights, Mr. Shepherd remarked : "If he has that right, why should there be any need either to reveal that fact on renewal, or at all? If it has to be revealed, then it follows that there can be no such right, as is assumed." Referring to the removal of vehicles, he contended that if an application were granted for a certain base, it was vitiated if the vehicle Were transferred from that base.
In his view, Section 5 was intended to give the Authority some guide regarding the pool of transport available. A licence holder was not entitled to change his base in this manner. The Burnley vehicle had, in fact, never been used in Burnley, but had been operated in Chester the whole time. If it were open to an A-licence holder to change his base, why should a B licensee not be entitled to do the same?
Willing to be Prosecuted.
Mr. Woodward replied that he saw no reason why a B-licensee should not do so, provided that he kept within the authorized area. So confident was the L.M.S. in its right to operate where it pleased, that it would willingly be prosecuted if it were thought that the company had been acting illegally.
He contended that vehicles cpulet.not be allocated to contract work,-ai-liey also did collection and delivery work. Regarding the circular, he argued that it was a perfectly proper one.
Decision was reserved.