OPERATOR RISKS LICENCE REVOCATION.
30th October 1936
Page 31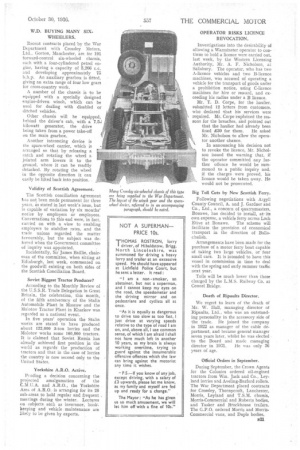 Page 31, 30th October 1936 —
OPERATOR RISKS LICENCE REVOCATION.
Close
Investigations into the desirability of allowing a Warminster operator to continue to hold a licence were carried out, last week, by the Western Licensing Authority, Mr. A. F_ Nicholson, at Salisbury. The operator, who has two A-licence vehicles and two B-licence machines, was accused of operating a vehicle for the transport of goods under a prohibition notice, using C-licence machines for hire or reward, and exceeding his radius under a B licence. Mr. T. D. Corpe, for the haulier, submitted 12 letters from customers, who declared that his services were• required. Mr. Corpe 'explained the reasons for the breaches, and pointed out that the haulier had already been
fined £30 for them. He asked Mr. Nicholson to allow the operator another chance.
In announcing his decision not to revoke the licence, Mr. Nicholson issued the warning that, if the operator committed any further offence he would be summoned to a public inquiry and, if the charges were proved, his licence would be taken away. He would not be prosecuted.
Big Toll Cuts by New Scottish Ferry.
Following negotiations with Argyll County Council, A. and J. Gardner and Co., Ltd., a concern of quartymasters, Bonawe, has decided to install, at. its own expense, a vehicle ferry across Loch Etive at Bonawe. The scheme will facilitate the provision of economical transport in the direction of Ballachulish.
Arrangements have been made for the purchase of a motor ferry boat capable of taking two large vehicles, or four small cars. It is intended to have this vessel in commission in time to deal with the spring and early summer traffic next year.
Tolls will be much lower than those charged by the L.M.S. Railway Co. at Connel Bridge.
Death of Ripattlts Director.
We regret to learn of the death of Mr. W. Hall, managing director of Ripaults, Ltd., who was an outstanding personality in the accessory side of the trade. He joined the company in 1922 as manager of the cable department, and became general manager seven years later, whilst he was elected to the Boatd and made managing director in 1931. He was only 36 years of age.
Official Orders in September.
During September, the Crown Agents for the Colonies ordered oil-engined tractors from Wm. Jack and Co., Ley. land lorries and Aveling-Barford rollers. The War Department placed contracts for Crossley, Thornycroft, Lanchester, Morris, Leyland and T.S.M. chassis, Morris-Commercial and Roberts bodies, and Tasker and Brockhouse 'trailers. The G.P.O. ordered Morris and Morris. Commercial vans, and Duple bodies.