Passing Comments
30th October 1936
Page 26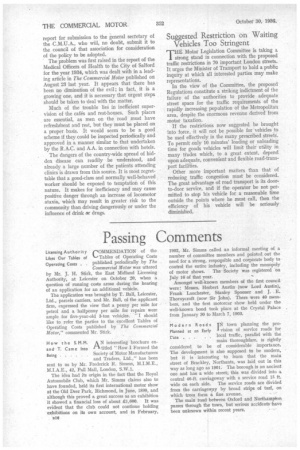 Page 27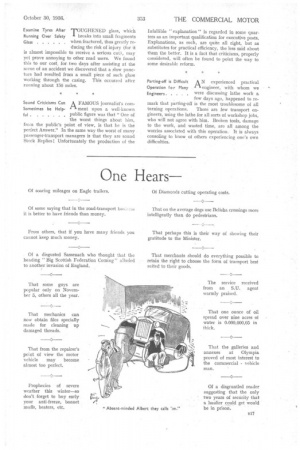 Page 26, 30th October 1936 —
Passing Comments
Close
Licensing Authority COMMENDATION of the Likes Our Tables of 1.-"Tables of Operating Costs Operating Costs . . published periodically by The
Commercial Motor was uttered by Mr. J. H. Stirk, the East Midland Licensing Authority, at Leicester on October 20, when a question of running costs arose during the hearing of an application for an additional vehicle.
The application was brought by T. Ball, Leicester, Ltd., parcels carriers, and Mr. Ball, of the applicant. firm, expressed the view that a penny per mile for petrol and a halfpenny per mile for repairs were ample for five-year-old 3-ton vehicles. "I should like to refer the parties to the excellent Tables of Operating Costs published by The Commercial Motor," commented Mr. Stirk.
How the S.M.M. A N interesting brochure enand T. Came Into r-1 titled "How I Formed the
Being Society of Motor Manufacturers and Traders, Ltd.," has been sent to us by Mr. Frederick R. Simms, M.I.M.E., M.I.A.E., 42, Pall Mall, London, S.W.1.
The idea had its origin in the fact that the Royal Automobile Club, which Mr. Simms claims also to have founded, held its first international motor show at the Old Deer Park, Richmond, in June, 1899, and although this proved a great success as an exhibition it showed a financial loss of about £1,600. It was evident that the club could not continue holding exhibitions on its own account, and in February, 1902, Mr. Simms called an informal meeting of a number of committee members and pointed out the need for a strong, respousible and corporate body to control the entire industry, including the monopoly of motor shows. The Society was registered on July 16 of that year.
Amongst well-known members of the first council• were: Messrs. Herbert Austin (now Lord Austin), Frank Lanchester, Stanley Spooner and J. E. Thornycroft (now Sir John). There were 40 members, and the first motorcar show held under the well-known bond took place at the Crystal Palace from January 30 to March 7, 1903.
Modern Roads TN town planning the proPlanned at an Early 1 vision of service roads for
Cate . . . . . local traffic, parallel with the
main thoroughfare, is rightly considered to be of considerable importance. The development is also supposed to be modern, but it is interesting to learn that the main street of Brackley, Northants, was laid out in this way as long ago as 1901. The borough is an ancient one and has a wide street; this was divided into a central 40-ft. carriageway with a service road 15 ft. wide on each side. The service roads are divided from the carriageway by broad strips of turf, on which trees form a fine avenue.
The main road between Oxford and Northampton passes through the town, but serious accidents have been unknown within recent years.
Examine Tyres After TOUGHENED glass, which Running Over Safety I breaks into small fragments Glass when fractured, thus greatly re
ducing the risk of injury (for it is almost impossible to receive a serious cut), may yet prove annoying to other road users. We found this to our cost, for two days after assisting at the scene of an accident we discovered that a slow puncture had resulted from a small piece of such glass working through the casing. This occurred after running about 150 miles.
Sound Criticisms Can A FAMOUS journalist's cornSometimes be HelprTh. merit upon a well-known
f u I . public figure was that "One of the worst things about him, from the public's point of view, is that he is the perfect Answer." In the same way the worst of many passenger-transport managers is that they are sound Stock Replies! Unfortunately the production of the Infallible " explanation " is regarded in some quarters as an important qualification for executive posts. Explanations, as such, are quite all right, but as substitutes for practical efficiency, the less said about them the better. It is a fact that criticisms, properly considered, will often be found to point the way to some desirable reform.
AN experienced practical engineer, with whom we were discussing lathe work a few days ago, happened to reis the most troublesome of all There are few transport engineers, using the lathe for all sorts of workshop jobs, who will not agree with him. Broken tools, damage to the work, and wasted time, are all among the worries associated with this operation. It is always consoling to know of others experiencing one's own difficulties.
Parting-off is Difficult Operation for Many Engineers mark that parting-off turning operations.