Simple steps
30th November 1995
Page 22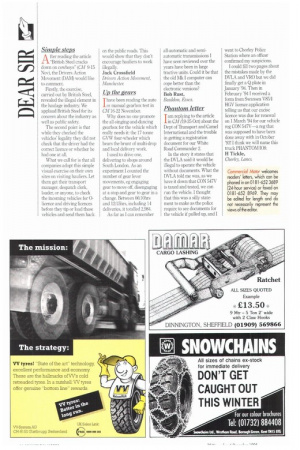 Page 22, 30th November 1995 —
Simple steps
Close
After reading the article "British Steel cracks down on cowboys" (CM 9-15 Nov), the Drivers Action Movement (DAM) would like to comment.
Firstly, the exercise, carried out by British Steel, revealed the illegal element in the haulage industry. We applaud British Steel for its concern about the industry as well as public safety.
The second point is that while they checked the vehicles' legality they did not check that the driver had the correct licence or whether he had one at all.
What we call for is that all companies adopt this simple visual exercise on their own sites on visiting hauliers. Let them get their transport manager, despatch clerk, loader, or anyone, to check the incoming vehicles for 0licence and driving licences before they tip or load these vehicles and send them back on the public roads. This would show that they don't encourage hauliers to work illegally.
Jack Crossfield Drivers Action Movement, Manchester
Up the gears
Ihave been reading the auto vs manual gearbox test in CM16-22 November.
Why does no one promote the all-singing-and-dancing gearbox for the vehicle which really needs it: the 17-tonne GVW four-wheeler which bears the brunt of multi-drop and local delivery work.
1 used to drive one, delivering to shops around South London. As an experiment I counted the number of gear lever movements, eg engaging gear to move off, disengaging at a stop and gear to gear in a change. Between 06:10hrs and 12:15hrs, including 14 deliveries, it totalled 2.984.
As far as I can remember all-automatic and semiautomatic transmissions I have seen reviewed over the years have been in large tractive units. Could it be that the old Mk I computer can cope better than the electronic versions?
Bob Rust, Basildon, Essex.
Phantom letter
Jam replying to the article in CM (19-25 Oct) about the Dept of Transport and Camel International and the trouble in getting a registration document for our White Road Commander 2.
In the story it states that the DVLA said it would be illegal to operate the vehicle without documents. What the DVLA told me was, as we have it down that CON 547V is taxed and tested, we can run the vehicle. I thought that this was a silly statement to make as the police require to see documents for the vehicle if pulled up, and I
went to Chorley Police Station where an officer confirmed my suspicions.
I could fill two pages about the mistakes made by the DVLA and VRO but we did finally get a Q-plate in January '94. Then in February '94 I received a form from Swansea V85/I HGV licence application telling us that our excise licence was due for renewal on 1 March '94 for our vehicle reg CON 547V—a reg that was supposed to have been done away with in October '93! I think we will name this truck PHANTOM 109. H Tickle, Chorley, Lana