Bull-bars to be banned
30th November 1995
Page 12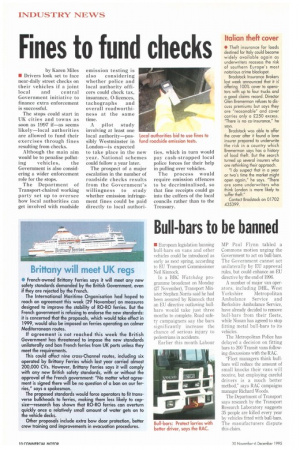 Page 12, 30th November 1995 —
Bull-bars to be banned
Close
• European legislation banning bull-bars on vans and other vehicles could be introduced as early as next spring, according to EU Transport Commissioner Neil Kinnock.
In a BBC Watchdog programme broadcast on Monday (27 November), Transport Minister Stephen Norris said he had been assured by Kinnock that an EU directive outlawing bullbars would take just three months to complete. Road safety campaigners say the bars significantly increase the chance of serious injury to pedestrians in accidents.
Earlier this month Labour MP Paul Flynn tabled a Commons motion urging the Government to act on bull-bars. The Government cannot act unilaterally by EU approval rules, but could enhance an EU directive by the end of 1996.
A number of major van operators, including DHL, West Yorkshire Metropolitan Ambulance Service and Berkshire Ambulance Service, have already decided to remove bull-bars from their fleets, while Nissan has agreed to stop fitting metal bull-bars to its vehicles.
The Metropolitan Police has delayed a decision on fitting bars to 200 Transit vans following discussions with the RAC.
"Fleet managers think bullbars will reduce the amount of small knocks their vans will receive, but employing careful drivers is a much better method," says RAC campaigns manager Richard Woods.
The Department of Transport says research by the Transport Research Laboratory suggests 35 people are killed every year by vehicles fitted with bull-bars. The manufacturers dispute this claim.