ore Channel hoice from ruckline
30th November 1985
Page 7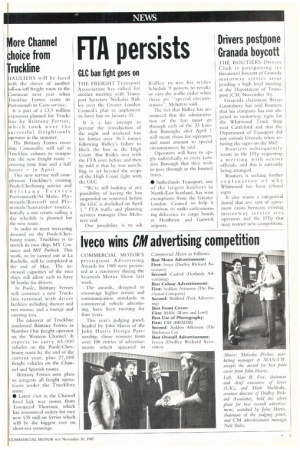 Page 7, 30th November 1985 —
ore Channel hoice from ruckline
Close
AULIERS will be faced ith the choice of another oil-on/off freight route to the -:ontinent next year when l'ruckline Ferries starts its ortsmouth to Caen service.
It is part of a .0.5 million xpansion planned for Truckinc by Brittany Ferries, Which took over the • uccessful freight-only perator in the summer.
The Brittany Ferries ro-ro ship Cornottailles will sail in Truckline colours to inaugurate the new freight route — crossing time four and a half hours — in April.
This new service will complement Truckline's existing Poole/Cherbourg service and Brittany Ferries Portsmouth/St Malo, Plymouth/Roscoll and Plymouth/Santander routes. Initially a one return sailing a day schedule is planned for the new route.
In order to meet increasing demand on the Poole/Cher bourg route, Truckline is to
stretch its two ships MV Contances and MV Purbeck. This
work, to be carried out at La Rochelle, will be completed at the end of May. The in creased capacities of the two ships will allow each to have 58 berths for drivers.
In Poole, Brittany Ferries will construct a new Truck line terminal with driver facilities including shower and rest rooms, and a lounge and catering area.
The takeover of Truckline confirmed Brittany Ferries as Number One freight operator on the Western Channel. It expects to carry 65,000 vehicles on the Poole/Cherbourg route by the end of the current year, plus 27,000 freight vehicles on the Channel and Spanish routes.
Brittany Ferries now plans to integrate all freight operations under the Truckline name.
• Latest s.'-iot in the Channel fixed link war comes from
Townsend Thoresen, which has announced orders for two new .C..35 mill.on ferries which will be the biggest ever on short-sea crossings.