FTA persists
30th November 1985
Page 7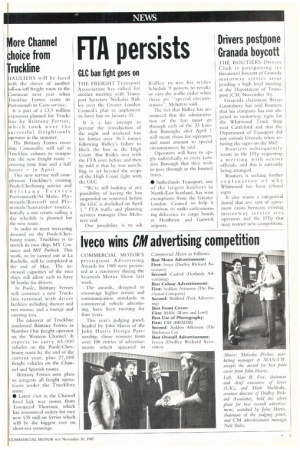 Page 7, 30th November 1985 —
FTA persists
Close
GLC ban fight goes on
THE. FREIGI Illransport Association has called for another meeting with Transport Secretary Nicholas Ridley over the Greater London Council's plan to implement its lorry ban on January 31.
It is a late attempt to prevent the introduction of the night and weekend ban for lorries over 16.5 tonnes following Ridley's failure to block the ban in the High Court. But Ridley met with the FTA once before and then he told it that he was unwilling to act beyond the scope of the High Court fight with the GLC.
"We're still looking at any possibility of having the ban suspended or removed before the GLC is abolished on April 1," PTA traffic and planning services manager Don McIntyre said.
One possibility is to ask Ridley to use his wider Schedule 9 powers to revoke or vary the traffic order when there are "special circumstances'', McIntyre said.
The fact that Ridley has announced that the administration of the ban must go through each of the 33 London Boroughs after April 1 will mean chaos for operators and must amount to special circumstances, he said.
Operators will have to apply individually to every London Borough that they wish to pass through in the banned times.
• Sutherlands Transport, one of the largest hauliers in North-East Scotland, has won exemptions from the Greater London Council to help it continue to make early-morning deliveries to cargo bonds at Heathrow and Gatwick airports. .