Major merger likely
30th November 1985
Page 6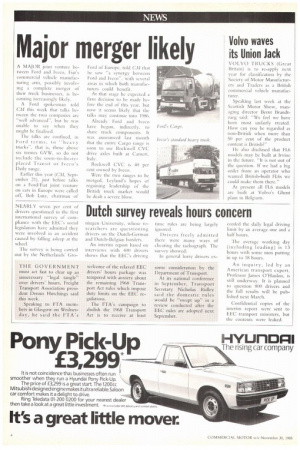 Page 6, 30th November 1985 —
Major merger likely
Close
A MAJOR joint venture between Ford and Iveco, Fiat's commercial vehicle manufacturing arm, possibly involving a complete merger of their truck businesses, is becoming increasingly likely.
A Ford spokesman told CM this week that talks between the two companies are "well advanced", hut he was unable to say when they might be finalised.
The talks arc confined, in Ford terms, to "heavy trucks'', that is, those above six tonnes GVW, so do not include the soon-to-be-replaced Transit or Iveco's !Lily range.
Earlier this year (CM, September 21). just before talks on a Ford/Fiat joint venture on cars in Europe were called off, Bob Lutz, chairman of
Ford of Europe, told CAI that he saw "a synergy between Ford and Iveco", with several areas in which both manufacturers could benefit.
At that stage he expected a firm decision to he made before the end of this year. but now it seems likely that the talks may continue into 1986.
Already Ford and Iveco have begun. indirectly, to share truck components. It was announced last month that the entire Cargo range is soon to use Rockwell (;VC drive axles built at Canieri, Italy.
Rockwell CVC is 40 per cent owned by Iveco.
Were the two ranges to be merged. Leyland's hopes of regaining leadership of the British truck market would be dealt a severe blow.