BIRD'S-EYE VIEW
30th November 1985
Page 56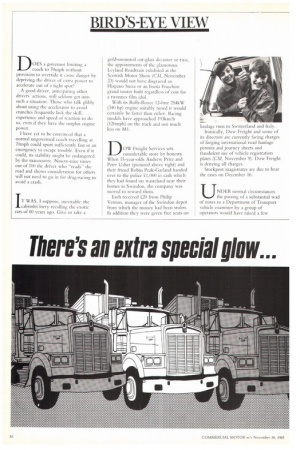 Page 57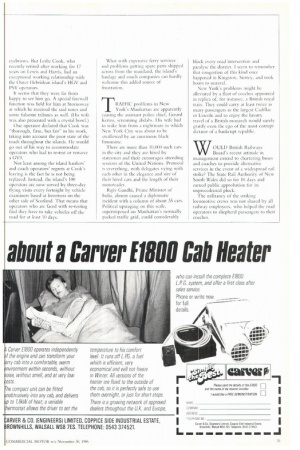 Page 56, 30th November 1985 —
BIRD'S-EYE VIEW
Close
DOES a governor limiting a coach to 70mpli without provision to override it (-Mist: danger by depriving the driver of extra power to accelerate out of a right spot?
A good driver, anticipating other drivers actions, will seldom get into such a situation. Those who talk glibly about using the accelerator to avoid crunches frequently lack the skill, experience and speed of reaction to do so, even if they have the surplus engine power.
I have yet to be convinced that a normal ungoverned coach travelling at 70mph could spurt sufficiently fast in an emergency to escape trouble. Even if it could, its stability might be endangered by the manoeuvre. Ninety-nine times Out of 100 the driver who "reads" the road and shows consideration for others will not need to go in for drag-racing to avoid a crash.
Jr WAS, 1 suppose, inevitable: the cabriolet lorry recalling the exotic cars of 60 years ago. Give or take a
gold-mounted cut-glass decanter or two, the appointments of the glamorous Leyland Roadtrain exhibited at the Scottish Motor Show (CM, November 23) would not have disgraced an Hispano Suiza or an Issota Fraschini grand tourer built regardless of cost for a twenties film idol.
With its Rolls-Royce 12-litre 254kW (340 hp) engine suitably tuned it would certainly be faster than either. Racing models have approached 193k m/h (120ruph) on the track and not much less on MI.
DOW Freight Services sets considerable store by honesty. When 15-year-olds Andrew Price and Peter Usher (pictured above right) and their friend Robin Peak-Garland handed over to the police i:1,000 in cash which they had found on wasteland near their homes in Swindon, the company was moved to reward them.
Each received I:20 from Philip Vernon, manager of the Swindon depot from which the money had been stolen. In addition they were given free seats on haulage runs to Switzerland and Italy.
Ironically, Dow Freight and son-le of its directors are currently facing charges of forging international road haulage permits and journey sheets and fraudulent use of vehicle registration plates (CM, November 9). Dow Freight is denying all charges.
Stockport magistrates are due to hear the cases on December 16.
UNDER normal circumstances the passing of a substantial wad of notes to a Department of Transport vehicle examiner by a group of operators would have raised a few
eyebrows. But Leslie Cook, who recently retired after working for 17 years on Lewis and Harris, had an exceptional working relationship with the Outer I Iebridean island's HGV and PSV operators.
It seems that they were far from happy to see him go. A special farewell Function was held for him at Stornoway at which he received the said notes and some Fulsome tributes as well. (I us wif was also presented with a crystal howl.) One operator declared that Cook was "thorough, firm, hut fair" in his work, taking into account the poor state of the roads throughout the islands. He would go out of his way to accommodate operators who had to re-test or remove a GV9.
Not least among the island hauliers' and coach operators' regrets at Cook's leaving is the fact he is not being replaced. Instead, the island's 100 operators are now served by three-day flying visits every fortnight by vehicle examiners based at Inverness on the other side of Scotland. That means that operators who are faced with re-testing find they have to rake vehicles off the road for at least 10 days.
What with expensive ferry services and problems getting spare parrs shipped across from the mainland, the island's haulage and coach companies can hardly welcome this added source of frustration.
RAFFIC problems in New York's Manhattan are apparently . causing the assistant police chief. Gerard Kerins, screaming abdabs. His wife had to wake hint from a nightmare in which New York City was about to be swallowed by an enormous black limousine.
There are more than 10,000 such cars in the city and they are hired by statesmen and their entourage's attending sessions of the United Nations. Protocol is everything, with delegates vying with each other in the elegance and size of their hired cars and the length of their motorcades.
Rajiv Gandhi, Prime Minister or India, almost caused a diplomatic incident with a column of about 35 cars. Political upstaging on this scale, superimposed on Manhattan's normally packed traffic grid, could considerably block every road intersection ;Ind paralyse the district. I seem to remember that congestion of this kind once happened in Kingston, Surrey, and took hours to unravel.
New York's problems might he alleviated by a fleet of coaches appointed in replica of, for instance, a British royal train. They could carry at least twice as many passengers as the Largest Cadillac or Lincoln and to enjoy the luxury travel of a British monarch would surely gratify even the ego of the most corrupt dictator or a bankrupt republic.
AVOULD British Railways Board's recent attitude in management extend to chartering buses and coaches to provide alternative services, in the event of a widespread rail strike? The State Rail Authority of New South Wales did so for 10 days and earned public approbation for its unprecedented pluck.
The militancy of the striking locomotive crews was not shared by all railway employees, who helped the road operators to shepherd passengers to their coaches.