VE10 ON TARGET
30th November 1985
Page 52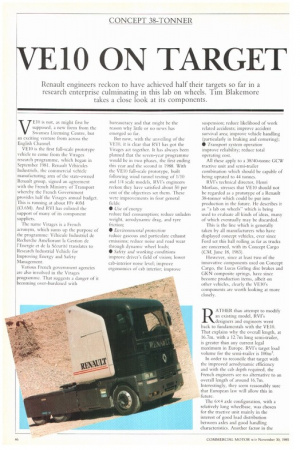 Page 53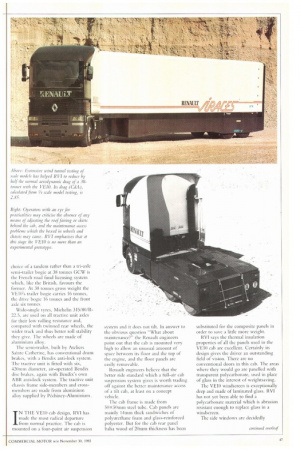 Page 54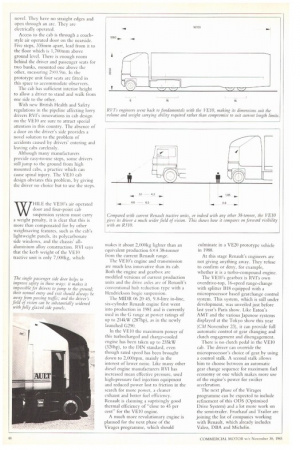 Page 52, 30th November 1985 —
VE10 ON TARGET
Close
Renault engineers reckon to have achieved half their targets so far in a research enterprise culminating in this lab on wheels. Tim Blakemore takes a close look at its components.
VE10 is not, as might first be supposed, a new form from the Swansea Licensing Centre, but an exciting venture from across the English Channel.
VE10 is the first full-scale prototype vehicle to come from the Virages research programme, which began in September 1981. Renault Vehicules IndustrieIs, the commercial vehicle manufacturing arm of the state-owned Renault group, signed an agreement with the French Ministry of Transport whereby the French Government provides half the Virages annual budget. This is running at about FFr 40M (i3.6M). And RVI has enlisted the support of many of its component suppliers.
The name Virages is a French acronym, which sums up the purpose of the programme: Vehicule Industriel de Recherche Ameliorant la Gestion de l'Energie et de la Securite translates to Research Industrial Vehicle for Improving Energy and Safety Management.
Various French government agencies are also involved in the Virages programme. That suggests a danger of it becoming over-burdened with bureaucracy and that might be the reason why little or no news has emerged so far.
But now, with the unveiling of the VE10, it is clear that RVI has got the Virages act together. It has always been planned that the seven-year programme would be in two phases, the first ending this year and the second in 1988. With the VE10 full-scale prototype, built following wind tunnel testing of 1/10 and 1/4 scale models, RVI's engineers reckon they have satisfied about 50 per cent of the objectives set them. These were improvements in four general fields: • Use of energy reduce fuel consumption; reduce unladen weight, aerodynamic drag, and tyre friction; • Environmental protection reduce gaseous and particulate exhaust emissions; reduce noise and road wear through dynamic wheel loads; • Safety and working conditions improve driver's field of vision; lower cab-interior noise level; improve ergonomics of cab interior; improve suspension; reduce likelihood of work related accidents; improve accident survival area; improve vehicle handling (particularly in braking and cornering); • Transport system operation improve reliability; reduce total operating cost.
All these apply to a 38/40-tonne GCW tractive unit and semi-trailer combination which should be capable of being uprated to 44 tonnes.
RVI's technical director, Henri Morlaas, stresses that VE10 should not be regarded as a prototype of a Renault 38-tonner which could he put into production in the future. He describes it as "a lab on wheels" which is being used to evaluate all kinds of ideas, many of which eventually may be discarded.
This is the line which is generally taken by all manufacturers who have displayed concept vehicles, ever since Ford set this ball rolling as far as trucks are concerned, with its Concept Cargo (CM, June 18, 1983).
However, since at least two of the innovative components used on Concept Cargo, the Lucas Girling disc brakes and GKN composite springs, have since become production items, albeit on other vehicles, clearly the V E10's components are worth looking at more closely.
RATHER than attempt to modify an existing model, RVI's designers and engineers went back to fundamentals with the VE10. That explains why the overall length, at 16.7m, with a 12.7m long semi-trailer, is greater than any current legal maximum in Europe. RVI's target load volume for the semi-trailer is 100m3.
In order to reconcile that target with the improved aerodynamic efficiency and with the cab depth required, the French engineers see no alternative to an overall length of around 16.7m. Interestingly, they seem reasonably sure that European law will allow this in future.
The 6x4 axle configuration, with a relatively long wheelbase, was chosen for the tractive unit mainly in the interest of good load distribution between axles and good handling characteristics. Another factor in the choice of a tandem rather than a tri-axle semi-trailer bogie at 38 tonnes GCW is the French road fund licensing system which, like the British, favours the former. At 38 tonnes gross weight the LIO's trailer bogie carries 16 tonnes, the drive bogie 16 tonnes and the front axle six tonnes.
Wide-single tyres, Michelin 315/80/R22.5, are used on all tractive unit axles for their low rolling resistance and, compared with twinned rear wheels, the wider track and thus better roll stability they give. The wheels are made of aluminium alloy.
The semi-trailer, built by Ateliers Sainte Catherine, has conventional drum brakes, with a Bendix anti-lock system. The tractive unit is fitted with six, 420min diameter, air-operated Bendix disc brakes, again with Bendix's own ABR anti-lock system. The tractive unit chassis frame side-members and Cross— members are made from aluminium alloy supplied by Peichiney-Aluminium .
IN THE VE10 cab design, RVI has made the most radical departure from normal practice. The cab is mounted on a four-point air suspension
system and it does not tilt. In answer to the obvious question "What about maintenance?" the Renault engineers point out that the cab is mounted very high to allow an unusual amount of space between its floor and the top of the engine, and the floor panels are easily removable.
Renault engineers believe that the better ride standard which a full-air cab suspension system gives is worth trading off against the better maintenance access of a tilt cab, at least on a concept vehicle.
The cab frame is made from 50x50mm steel tube. Cab panels are mainly 14mm thick sandwiches of polyurethane loan] and glass-reinforced polyester. But for the cab rear panel balsa wood of 20mm thickness has been substituted for the composite panels in order to save a little more weight.
RVI says the thermal insulation properties of all the panels used in the VE10 cab are excellent. Certainly its design gives the driver an outstanding field of vision. There are no conventional doors in this cab. The areas where they would go are panelled with transparent polycarbonate, used in place of glass in the interest of weightsaving.
The VE10 windscreen is exceptionally deep and made of laminated glass. RVI has not yet been able to find a polyearbonate material which is abrasion resistant enough to replace glass in a windscreen.
The side windows are decidedly novel. They have no straight edges and open through an arc. They are electrically operated.
Access to the cab is through a coachstyle air operated door on the nearside. Five steps, 335mm apart, lead from it to the floor which is 1,700mm above ground level. There is enough room behind the driver and passenger seats for two bunks, mounted one above the other, measuring 2x0.9m. In the prototype unit four scats are fitted in this space to accommodate observers.
The cab has sufficient interior height to allow a driver to stand and walk from one side to the other.
With new British Health and Safety regulations in the pipeline affecting lorry drivers RVI's innovations in cab design on the VE10 are sure to attract special attention in this country. The absence of a door on the driver's side provides a novel solution to the problem of accidents caused by drivers' entering and leaving cabs carelessly.
Although many manufacturers provide easy-to-use steps, some drivers still jump to the ground from high mounted cabs, a practice which can cause spinal injury. The VE10 cab design obviates this problem, by giving the driver no choice but to use the steps.
WI IILE the VE10's air operated door and four-point cab suspension system must carry a weight penalty, it is clear that this is more than compensated for by other weightsaving features, such as the cab's lightweight panels, its polycarhonate side windows, and the chassis' allaluminium alloy construction. RVI says that the kerb weight of the VE10 tractive unit is only 7,000kg, which
makes it about 2,0(X)kg lighter than an equivalent production 6x4 38-tonner from the current Renault range.
The VE10's engine and transmission are much less innovative than its cab. Both the engine and gearbox are modified versions of current production units and the drive axles are of Renault's conventional huh reduction type with a Hendrickson bogie suspension.
The MIDR 06 20 45, 9.8-litre in-line, six-cylinder Renault engine first went into production in 1981 and is currently used in the G range at power ratings of up to 214kW (287hp), as in the newly launched G290.
In the VE10 the maximum power of this turbocharged and charge-cooled engine has been taken up to 235kW (320hp), to the DIN standard, even though rated speed has been brought down to 2,0(X)rpm, mainly in the interest of lower noise. Like many other diesel engine manufacturers RVI has increased mean effective pressure, used high-pressure fuel injection equipment and reduced power lost to friction in the search for more power, a cleaner exhaust and better fuel efficiency. Renault is claiming a suprisingly good thermal efficiency of "close to 45 per cent" for the VE10 engine.
A much more revolutionary engine is planned fbr the next phase of the Virages programme, which should culminate in a VE20 prototype vehicle in 1988.
At this stage Renault's engineers are not giving anything away. They refuse to confirm or deny, for example, whether it is a turbo-compound engine.
The VE10's gearbox is RVI's own overdrive-top, 16-speed range-change with splitter B18 equipped with a microprocessor based gearchange control system. This system, which is still under development, was unveiled just before last year's Paris show. Like Eaton's AMT and the various Japanese systems displayed at the Tokyo show this year (CM November 23), it can provide full automatic control ot gear changing and clutch engagement and disengagement.
There is no clutch pedal in the VE10 cab. The driver can override the microprocessor's choice of gear by using a control stalk. A second stalk allows him to choose between an automatic gear change sequence for maximum fuel economy or one which makes more use of the engine's power for swifter acceleration.
The next phase of the Virages programme can be expected to include refinement of this ODS (Optimised Drive System) and a lot more work on the semi-trailer. Fruehauf and Trailor are joining the list of companies working with Renault, which already includes Valeo, DBA and Michelin.