THE HORSE HAS ALREADY BOLTED
30th November 1985
Page 51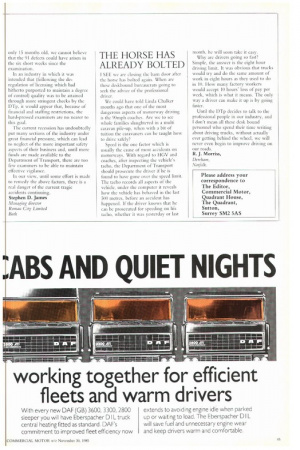 Page 51, 30th November 1985 —
THE HORSE HAS ALREADY BOLTED
Close
I SEE we are closing the barn door after the horse has bolted again. When are these deskbound bureaucrats going to seek the advice of the professional driver.
We could have told Linda Chalker months ago that one of the most dangerous aspects of motorway driving is the 90mph coaches. Are we to see whole families slaughtered in a multi caravan pile-up, when with a bit of tuition the caravaners can he taught how to drive safely?
Speed is the one factor which is usually the cause of most accidents on motorways. With regard to HGV and coaches, after inspecting the vehicle's tacho, the Department of Transport should prosecute the driver if he is found to have gone over the speed limit. The tacho records all aspects of the vehicle, under the computer it reveals how the vehicle has behaved in the last 500 metres, before an accident has happened. the driver knows that he can be prosecuted for speeding on his tacho, whether it was yesterday or last month, he will soon take it easy.
Why are drivers going so fast? Simple, the answer is the eight hour driving limit. It was obvious that trucks would try and do the same amount of work in eight hours as they used to do in 110. How many factory workers would accept 10 hours' loss of' pay per week, which is what it means. The only way a driver can make it up is by going faster.
Until the DTp decides to talk to the professional people in our industry, and don't mean all these desk bound personnel who spend their time writing about driving trucks, without actually ever getting behind the wheel, we will never even begin to improve driving on our roads.
R. J. Morriss, Dereham, Norfolk.