SPEED LIMITERS NOT ENOUGH
30th November 1985
Page 50
Page 51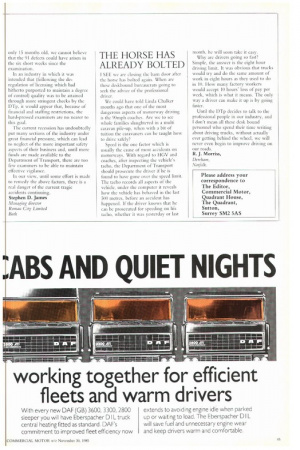 Page 50, 30th November 1985 —
SPEED LIMITERS NOT ENOUGH
Close
AMID the publicity which has come in the wake of the recent spate of coach crashes, it is perhaps inevitable that there would be a certain "closing of ranksby the industry in order to protect itself. However, the announcement by Linda Chalker of her plans to introduce speed limiters, and the further tragic accident on the M6, prompts me to write that consideration should be given to other aspects of coach operation that must hold a certain responsiblity for these occurrences.
As an operator of 23 coaches involved in all aspects of coach work, including express motorway services, we are keenly aware of the dangers of coach speeding — and the problems associated with controlling reckless driving by coach drivers — and welcome any moves that will aid the industry in general to enhance the already excellent safety record that coach travel enjoys. The problem of speeding by drivers (and is has yet to be proved that the recent accidents could be solely attributed to speeding) is, however, only one part of a complex situation that will take more than speed limiters to overcome.
First, while in the interest of safety the Department of Transport has generally the ability to check (via the tachograph machine installed in each coach) the drivers' hours of work, speed and rest periods, to ensure that current limitations are adhered to (and, where these have been shown to have been exceeded, to prosecute), it is a contradiction that, in the case of express motorway coach services this facility is not available to them, is the use of the tachograph machine for this class of work is merely "recommended" and cannot be enforced by law.
Second, until the industry itself recognises, and raises, the position of PSV drivers to the professional status to which we feel it should belong (and accepts wage levels commensurate with same) there is little hope of demanding the higher standard of driver that we all need. It is totally unrealistic to expect to attract the right kind of personnel — responsible for vehicles worth upwards of i:100,000 and, inure importantly, up to 80 or so passengers — on a basic wage of only 5:90 for a 45-hour week.
Third, a week or so ago we were asked by a finance company to repossess on their behalf a vehicle from a bankrupt Plymouth-based coach company which hitherto had been using this vehicle on its daily express service between Plymouth and the capital. Following our concern at the condition of the vehicle, it was agreed that a full survey be carried out by the local main dealers of the vehicle manufacturers, following which the vehicle was found to have no less than 91 defects, many of which would certainly affect the vehicle's safety. These included fuses overheating, various electrical wiring in dangerous condition, steering box mounting bolts loose, various air pipes loose, chassis bolts loose, drive-axle bushes worn, axle saddles cracked, fuel leaks, anti-roll bar bushes worn; steering damper leak, windows cracked, pipes and wiring trapped in the chassis, emergency engine stop inoperative — and these on a coach which until a few days previously was regularly on motorway work and which, only six weeks previously, had passed the annual Department of Transport vehicle examination tests.
Bearing in mind that the coach was only 15 months old, we cannot believe that the 91 defects could have arisen in the six short weeks since the examination.
In an industry in which it was intended that (following the deregulation of licensing which had hitherto purported to maintain a degree of control) quality was to be attained through more stringent checks by the DTp, it would appear that, because of financial and staffing restrictions, the hard-pressed examiners are no nearer to this goal.
The current recession has undoubtedly put many sections of the industry under great financial pressure, which can lead to neglect of the more important safety aspects of their business and, until more funds are made available to the Department of Transport, there are too few examiners to be able to maintain effective vigilance.
In our view, until some effort is made to remedy the above factors, there is a real danger of the current tragic accidents continuing.
Stephen D. James Managing director Roman City Limited Bath