RHA renews demand for U-turn on tax
30th November 1985
Page 5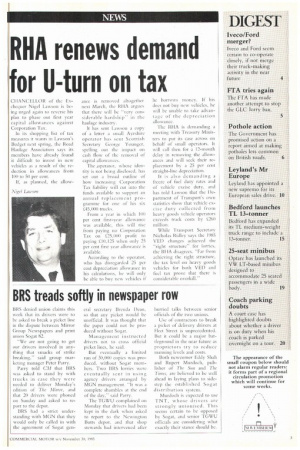 Page 5, 30th November 1985 —
RHA renews demand for U-turn on tax
Close
Keywords :
Energy In The United Kingdom
,
Motoring Taxation In The United Kingdom
,
Taxation In The United Kingdom
,
Vehicle Excise Duty
,
Road Haulage Association
,
Corporate Tax
,
Fuel Tax
,
Writing Down Allowance
,
Tax
,
Hydrocarbon Oil Duty
,
Depreciation
,
Business / Finance
CHANCELLOR of the Exchequer Nigel Lawson is being urged again to reverse his plan to phase out first year capital allowances against Corporation Tax.
In its shopping list of tax measures it wants in Lawson's Budget next spring, the Road Haulage Association says its members have already found it difficult to invest in new vehicles as a result of the reduction in allowances from 100 to 50 per cent.
It as planned, the allow
ance is removed altogether next March, the RHA argues that there will be "very considerable hardshipin the haulage industry.
It has sent Lawson a copy of a letter a small Ayrshire
operator h as sent Scottish Secretary George Younger, spelling out the impact on cash flow of the removal of capital allowances.
The .operator, whose identity is not being disclosed, has set out a broad outline of how increasing Corporation Tax liability will cut into the fluids available to support an annual replacement programme for one of his six i:45,000 trucks.
From a year in which 100 per cent first-year allowance was available, this will rise from paying no Corporation Tax on !:25,(XII) profit to paying 00,125 when only 25 per cent first year allowance is available.
According to the operator, who has disregarded 25 per
cent depreciation allowance in his calculations, he will only be able to buy new vehicles if he borrows money. If his does not buy new vehicles, he will be unable to take advantage of the depreciation allowance.
The RHA is demanding a meeting with Treasury Ministers to put its case across on behalf of small operators. It will call then for a 12-month delay in removing the allowances and will seek their replacement by a 25 per cent straight-line depreciation.
It is also demanding a freeze of fuel duty rates and of vehicle excise duty, and has told Lawson that the Department of Transport's own statistics show that vehicle excise duty collected from heavy goods vehicle operators exceeds track costs by £260 million.
While Transport Secretary Nicholas Ridley says the 1985 VED changes achieved the "right structure" for lorries, the RHA disagrees. "Far from achieving die right structure, the tax level on heavy goods vehicles for both VED and fuel tax prove that there is considerable overkill."