BRS treads softly in newspaper row
30th November 1985
Page 5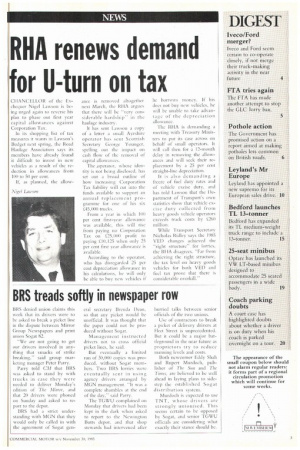 Page 5, 30th November 1985 —
BRS treads softly in newspaper row
Close
BRS denied union claims this week that its drivers were to be asked to break a picket line in the dispute between Mirror Group Newspapers and print union Sogat 82.
"We are not going to get our drivers involved in anything that smacks of strike breaking,said group marketing manager Peter Parry.
Parry told CM that BRS was asked to stand by with trucks in case they were needed to deliver Monday's edition of The Mirror, and that 20 drivers were phoned on Sunday and asked to report to the depot.
BRS had a strict understanding with MGN that they would only be called in with the agreement of Sogat gen
cral secretary Brenda Dean, so that any picket would be unofficial. It was thought that the paper could not be produced without Sogat.
Management instructed drivers not to cross official picker lines, he said.
But eventually a limited run of 30,000 copies was produced, without Sogat MC111bers. Two BRS lorries were. eventually sent in using agency drivers arranged by MGN management. ''It was a complete shambles at the end of the day,said Parry.
The TGWU complained on Monday that drivers had been kept in the dark when asked to report to the Newington Butts depot, and that shop stewards had intervened after hurried talks between senior officials of the two unions.
Use of contractors to break a picket of delivery drivers at Fleet Street is unprecedented. But it could be a major battleground in the near future as proprietors try to reduce manning levels and costs.
Both newcomer Eddy Shah and Rupert Murdoch, publisher of The Sun and The Times, are believed to be well ahead in laying plans to sidestep the established Sogat distribution system.
Murdoch is expected to use TNT, whose drivers are strongly unionised. This seems certain to be opposed by Sogat, and senior TGWU officials are considering what exactly their stance should be.